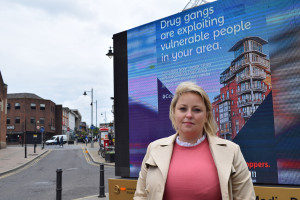 The new Police and Crime Commissioner Lisa Townsend has hailed a week of action to crackdown on 'county lines' criminality as an important step in the effort to drive drug gangs out of Surrey.
Surrey Police, together with partner agencies, carried out pro-active operations across the county and in neighbouring areas to disrupt the activities of criminal networks.
Officers made 11 arrests, seized drugs including crack cocaine, heroin and cannabis and recovered weapons including knives and a converted handgun as the county played its part in a national 'Intensification Week' to target organised drug crime.
Eight warrants were executed and officers seized cash, 26 mobile phones and disrupted at least eight 'county lines' as well as identifying and/or safeguarding 89 young or vulnerable people.
In addition, police teams across the county were out in communities raising awareness of the issue with over 80 educational visits made.
For more information on the action taken in Surrey – click here.
County lines is the name given to drug dealing which involves highly organised criminal networks using phone lines to facilitate the supply of class A drugs – such as heroin and crack cocaine.
The lines are valuable commodities to dealers, and are protected with extreme violence and intimidation.
She said: "County lines continues to be a growing threat to our communities so the kind of police intervention we saw last week is vital to disrupting the activities of these organised gangs.
The PCC joined local officers and PCSOs in Guildford last week where they teamed up with Crimestoppers on the last leg of their ad-van tour of the county warning the public of the danger signs.
"These criminal networks seek to exploit and groom young and vulnerable people to act as couriers and dealers and often use violence to control them.
"As lockdown restrictions ease over this summer, those involved in this sort of criminality might see that as an opportunity. Tackling this important issue and driving these gangs out of our communities is going to be a key priority for me as your PCC.
"Whilst the targeted police action last week will have sent a strong message out to county lines drug dealers – that effort must be sustained going forward.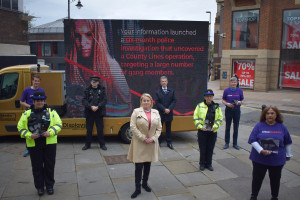 "We all have a part to play in that and I would ask our communities in Surrey to remain vigilant to any suspicious activity that could be related to drug dealing and report it immediately. Equally, if you know of anyone being exploited by these gangs – please pass that information to police, or anonymously to Crimestoppers, so that action can be taken."
---
Share on: