Lisa Townsend is your Police and Crime Commissioner for Surrey.
The PCC is responsible for overseeing the work of Surrey Police, holding the Chief Constable to account and helping to tackle the crime issues that matter to you.
Lisa is currently developing her Police and Crime Plan following consultation with residents and key stakeholders across Surrey. The final Plan will be published in December 2021.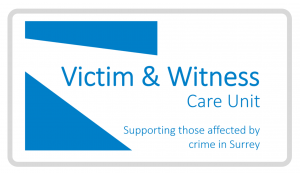 The Surrey Police Victim and Witness Care Unit helps victims of crime cope and, as far as possible, recover from their experience, putting in place care plans tailored to the needs of the individual.
Advice and support is offered to every victim of crime in Surrey. Individuals can also refer themselves by phone or via the website.