The Police and Crime Commissioner David Munro says he wants to build on progress made and continue improving the policing service for Surrey residents as he launches his refreshed Police and Crime Plan for the county today.
The PCC says the revised plan is designed to ensure Surrey Police stay ahead of new crimes, crack down on emerging trends such as the recent rise in burglary and ensure victims of crime are properly supported.
He has also highlighted working closely with communities to solve local issues and providing a police force that is both value for money and equipped to meet the challenges of the future as key priorities.
The plan, which is published today, is designed to set out the strategic direction for Surrey Police until 2020 and replaces the original plan which was launched after the PCC took up his post two year ago.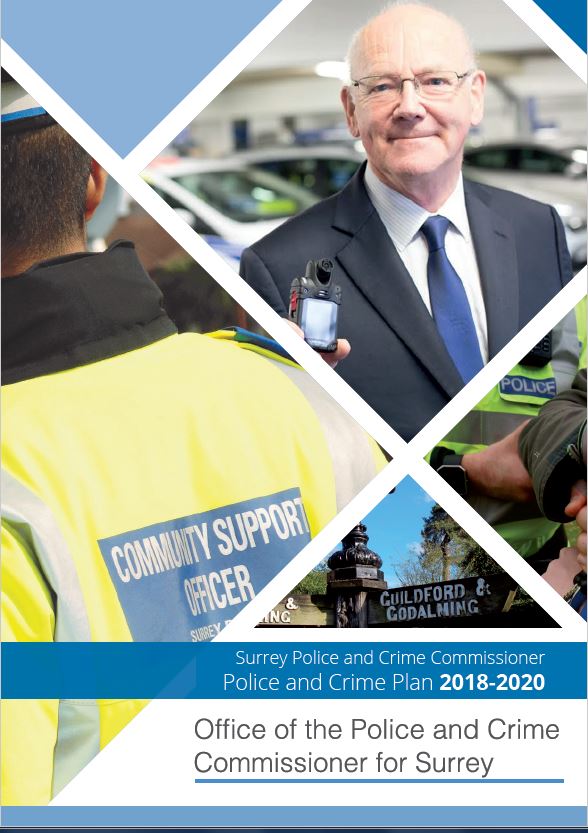 You can read it in full by clicking here: Police and Crime Plan 2018-2020
The six priorities in the new plan are:
Tackling Crime and Keeping Surrey Safe
Building Confident Communities
Supporting Victims
Preventing Harm
Making Every Pound Count
A Force Fit for the Future
PCC David Munro said: "When I took office just over two years ago, I issued my original Police and Crime Plan which set out the priorities for policing, crime reduction and community safety in Surrey.
"Much has been achieved since then – we have a stable top team under the Chief Constable and a new policing model has been successfully implemented allowing Surrey Police to balance demands from serious and complex crimes with the need to retain visible, local policing.
"The Force is on a more stable financial footing for the future and importantly, Her Majesty's Inspectorate for Police and Fire & Rescue Services has recognised the improvements made with improved grades across the board in recent inspections.
"However, there is always more to do and I believe it is vital we maintain that momentum and build on the progress already made.
"The best plans are ones that continue to evolve over time so the half-way point of my current four year term of office is a good time to refresh my Police and Crime Plan with the priorities I believe Surrey Police need to focus on in the next two years.
"Tackling crime and keeping people safe, building confident communities, combatting terrorism and supporting victims remain at the heart of what the plan is setting out to achieve.
"I would like to thank all those residents that took part in the consultation on this plan and shared their views on the priorities and policing in general in Surrey.
"Surrey is a fantastic place to live and work and together with the Chief Constable, I am committed to helping deliver a policing service its residents can be proud of.
"I would urge people to carry on giving us your suggestions and comments and help us continue to shape the future of policing in this county."
---
Share on: