It has been a challenging year for policing, not least in the response to terrorism which has seen officers across the country play their part in the significant security effort to keep us all safe. Although the Government has rightly invested more money at a national level to tackle this and other issues such as cyber-crime, local forces are continuing to see a rise in demand for their services against a backdrop of increased reporting of crime. We are no different here in Surrey.
In addition, this year we have seen the Government award an unplanned 1% rise in police pay, helping us to attract and retain good officers, and inflation is above 3%, putting further strain on our budgets.
Whilst some of our dedicated teams are busy tackling growing demand in areas such as domestic abuse, sexual offences, online crime and child abuse, these officers, by the nature of their work, cannot provide a visible patrol presence on our streets. However, I'm also aware that more 'visible' issues such as burglary and anti-social behaviour continue to concern residents in our communities.
Setting the policing element of the council tax (known as the precept) is one of the most important decisions a PCC has to make and I can assure you I've thought long and hard about the choices I have, balancing the natural instinct to restrict increases with the very real need to address the extra demands our police service faces. Let me be clear, I don't see asking the public for more money as the easy option.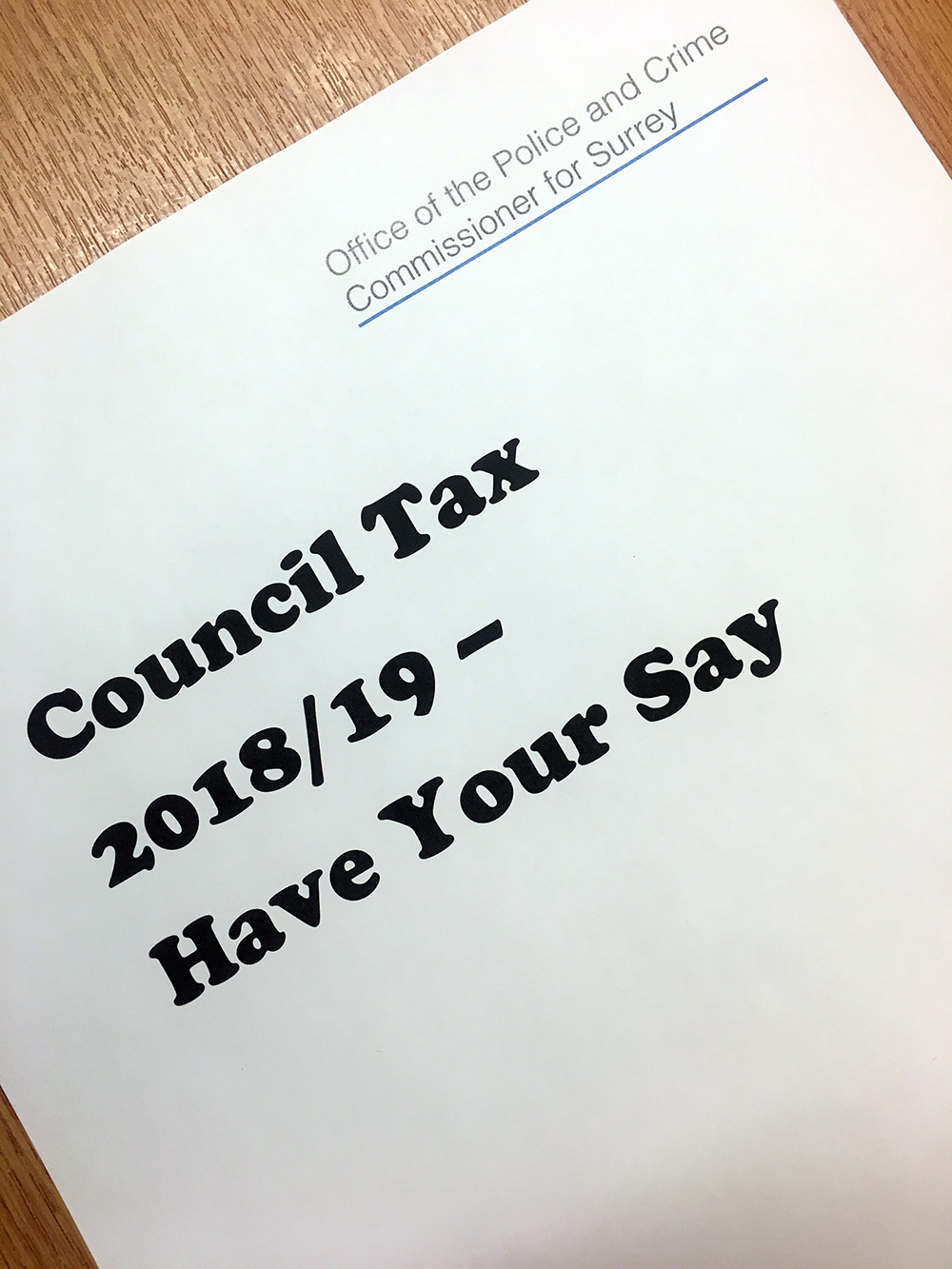 When I took office, I promised to fight for fair funding for Surrey Police. I continue to press Government to set a police funding formula which is fairer to Surrey residents. You may have seen the recent Government announcement that the precept cap for policing has been raised from the previous level of 2% – giving PCCs the ability to go up to a maximum increase of £12 a year on a Band D Council Tax bill. This would increase the annual policing council tax for a Band D property from £224.57 to £236.57. In Surrey, this equates to a rise of 5.3% for the policing element of council tax.
Surrey Police has reduced its reserves to the lowest level for any police force in the country and plans to make £5.3m of savings next year. Prior to the Government announcement, I was asking the Chief Constable to consider where further service cuts would need to be made, which would inevitably have led to a noticeable reduction in police officers. An average £12 a year increase in council tax per household will allow Surrey Police to protect local policing teams and keep the Neighbourhood Policing footprint at current levels. It will also ensure that Surrey Police is better placed to anticipate and respond to increasing threats, such as cybercrime and child abuse. It will allow investment in efficiency programmes and better IT giving Surrey a police force fit for the future and better equipped to protect residents from criminals.
The Government says it wants to see serious commitment from PCCs and Chief Constables to improve efficiency and deliver a better, more transparent service and I whole-heartedly agree. We will continue to rigorously pursue savings.   The public must get value for money from their local force and we are currently working on projects to rationalise the estate, explore further regional collaboration and seek better use of upgraded technology to save money and make policing in Surrey as efficient as possible.
Any savings these projects bring will be in the medium to long term future, so I believe a 5.3% precept increase will help us sustain the service we provide in the shorter term. However, I am really keen to get the Surrey public's view so please take a few minutes to complete our survey and have your say.
David Munro
COMPLETE THE SURVEY HERE: https://www.surveymonkey.co.uk/r/Consultation201819