The Police and Crime Commissioner Lisa Townsend has pledged to keep the safety of communities at the heart of policing in Surrey as she today unveiled her first Police and Crime Plan.
The Plan, which is published today, is designed to set out the strategic direction for Surrey Police and those key areas the Commissioner believes the Force needs to focus on for the next three years.
The Commissioner has set out key five priorities which the Surrey public have told her are the most important to them:
Reducing violence against women and girls in Surrey

Protecting people from harm in Surrey

Working with Surrey communities so that they feel safe

Strengthening relationships between Surrey Police and Surrey residents

Ensuring safer Surrey roads
The Plan will run during the Commissioner's current term of office until 2025 and provides the basis for how she holds the Chief Constable to account.
As part of the development of the plan, the widest consultation process ever carried out by the PCC's office took place over recent months.
Deputy Commissioner Ellie Vesey-Thompson led consultation events with a number of key groups such as MPs, councillors, victim and survivor groups, young people, professionals in crime reduction and safety, rural crime groups and those representing Surrey's diverse communities.
In addition, nearly 2,600 Surrey residents took part in a county-wide survey to have their say on what they would like to see in the plan.
Police and Crime Commissioner Lisa Townsend said: "It is really important to me that my plan reflects the views of Surrey residents and that their priorities are my priorities.
"Earlier this year we undertook a huge consultation exercise to get a broad range of views from both the public and those key partners we work with on what they would like to see from their police service.
"It is clear that there are issues that consistently cause concern such as speeding, anti-social behaviour, drugs and the safety of women and girls in our communities.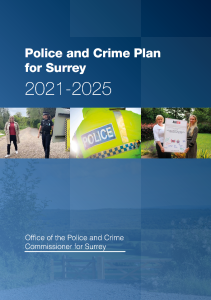 "I want to thank everyone who took part in our consultation process – your contribution has been invaluable in drawing this plan together.
"We've listened and this plan is very much based on the conversations we've had and the comments we've received on what is most important to people where they live and work.
"It is vital we strive to provide that visible police presence the public want in their communities, tackle those crimes and issues that affect our local communities and support victims and the most vulnerable in our society.
"The last 18 months have been particularly difficult for everyone and it will take time to recover from the lasting effects of the Covid-19 pandemic. That is why I believe it is more important than ever that we strengthen those relationships between our police teams and local communities and ensure we put their safety at the very heart of our plans.
"In order to achieve that and deliver on the priorities set out in my plan – I need to ensure that the Chief Constable has the right resources and that our policing teams are given the necessary support.
"In the coming days I will be consulting with the public again on my plans for this year's council tax precept and asking for their support in these challenging times.
"Surrey is a fantastic place to live and work and I am committed to using this plan and working with the Chief Constable to continue providing the best policing service we can for our residents."
---
Share on: