Surrey Police Landscape
The Surrey Police website provides a wide range of information about policing in Surrey:
http://www.surrey.police.uk/

Extract from Chief Constable's Introduction to the 2019 Force Management Statement
In simple terms, the challenges we face as a service over the next 3 years involve increases in demand and complexity across almost every area of our business. Following year on year savings we are doing more with less, but with the added challenge that the 'more' is increasingly complex, creating additional demands of its own.
The decisions concerning where to focus our resource and attention are difficult, with increasing departure from traditional police activity towards 'hidden' crimes including modern slavery and child sexual exploitation.  The public whom we serve are largely unaware of these developing crime types. They rightfully have high expectations of us and we recognise that some of their concerns do not always align to the threat and harm assessments we make about deployment. We ignore the will of the public at our peril. Whilst we must not shy away from using our professional judgement to make difficult choices concerning how we conduct our business, listening to and maintaining the confidence of our communities is paramount in securing their support for our endeavours.
Quite rightly we have increasingly sought to protect the most vulnerable in our communities from harm. Our ability to identify risk and vulnerability has improved and developed immeasurably over the last decade in terms of our assessment, decision making and information management. Of course, once vulnerability has been identified it has to be acted upon. Initial calls, incidents, investigations and ultimately criminal justice processes are taking longer whilst we strive to identify and support those at the most risk or with additional needs. The demands upon our teams are increasing as a result in terms of workloads, but also in the ever-increasing need for specialist skills.
Advances in technology present us with opportunities for innovation and efficiency, but also challenges, creating unparalleled pressures on key areas of our activity. The digital world has expanded beyond recognition with people living more of their lives in a virtual environment, within which we are increasingly expected to engage and police. This includes communicating on social media, combatting cyber enabled crimes and reviewing masses of digital evidence as the norm, rather than the exception. ICT and associated specialists are expensive, which is a challenge when we require industry standard resources, but with a fraction of their budget.
All of the above is intrinsically linked to our greatest strength – our people. To create a future-fit workforce, we must recruit and retain the right people with the right skills. Moreover, true commitment to organisational learning is essential for us to evolve in an informed manner, better than we previously were, on the back of lessons learnt. We must also honour our commitment to our people in terms of their personal wellbeing. We are asking them to work harder and to manage larger workloads that consist of increasingly complex, high-harm offences that can be emotionally difficult to be involved in.
---

Force Overview
The Surrey Police area is coterminous with the County of Surrey, with a population of 1.19m. In addition to this resident population, however, Surrey is home to a variety of businesses, from local to global organisations, major transport infrastructure (including the M25, M3 and M23, and both Gatwick and Heathrow airports on its border), four major hospitals, two universities, and significant elements of critical national infrastructure. Bordered by Sussex Police, Hampshire Constabulary, Thames Valley Police, the Metropolitan Police Service, and Kent Police, the force faces various challenges in terms of travelling and regional criminality.

Policing is an increasingly complex environment in which to deliver services with changes in technology increasing demand, shifting the way that the public wish to engage with the police, changing the types and scope of criminality affecting local people, and impacting the way that police must respond. Working to the force's Plan on a Page, which sets out Surrey Police's Vision, Mission, and Commitments to staff, Surrey Police places local policing at its heart, with dedicated neighbourhood teams, but also works collaboratively, regionally and nationally with other forces and partner agencies to deliver its services and to achieve its vision of making Surrey the safest it can be.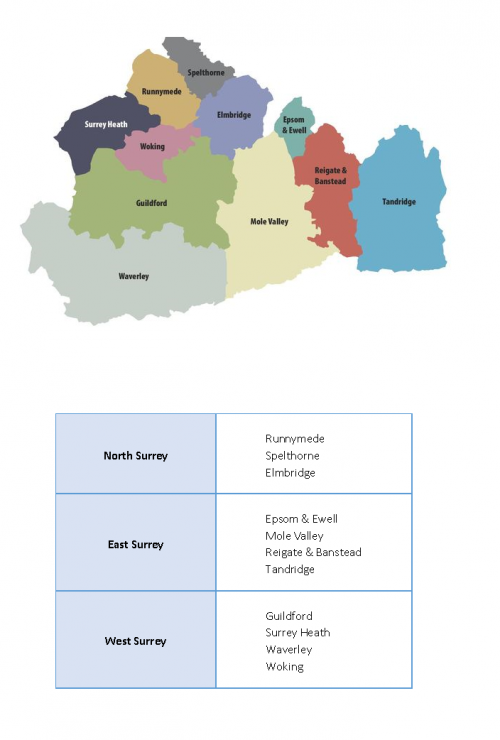 ---

Force Structure
The following structure gives a brief and, in many cases, simplified description of the work of departments and teams within Surrey Police, and those that form part of collaborated arrangements with other forces or agencies. All of the teams and departments will be interdependent upon others, and will work closely with colleagues; sometimes sharing expertise or staff, and often working together to solve a problem from different approaches. For example, a local neighbourhood issue may be identified and owned by the local Neighbourhood Specialist Officer, but they will often involve the local CID, NPT and force wide teams as well as partner agencies to work together to solve the problem. Similarly an organised crime case will be led by the Serious and Organised Crime Unit but will often depend on expertise from teams such as local officers and PCSOs, Intelligence, Surveillance, and Public Order or Firearms units.
Local Policing
Surrey Police delivers local policing in the county through three geographic divisions; North, East and West. Each division covers three or four borough or district local authorities, with neighbourhood policing teams covering coterminous areas:
Each division has:
A Criminal Investigation Department responsible for the investigation of serious and complex crime (PIP2 crime) across the division
A High Harm Perpetrator Unit responsible for the management (whether via diversion or prosecution) of those people who cause the most harm, including registered sex offenders.
A Neighbourhood Policing Team responsible for response to calls for service, investigation of volume crime (PIP1 crime), and proactive activity. Each rota is managed across the division by an Inspector, but teams are based locally (one per borough or district) and led by Sergeants.
A Safeguarding Investigation Unit responsible for the safeguarding of vulnerable people and the investigation of, and partnership work to prevent or reduce, crimes of child abuse, more serious domestic abuse, and reports of missing people across the division.
A number of Specialist Neighbourhood Teams (one per borough or district) responsible for reducing crime, disorder and antisocial behaviour by working with partners and taking a problem-solving approach to tackle local issues. There is one team per borough or district, led by the local Borough Commander (Inspector) and formed of Sergeants, Constables and PCSOs.
---

Force wide Departments
Central Public Protection, responsible for force wide partnership engagement and strategy formulation around public protection matters, and the management of central investigative teams, including:
The Complex Abuse Unit responsible for the investigation of more complicated allegations of abuse that may relate to an organisation or a prolific historic offender.
The Paedophile Online Investigation Team responsible for the investigation of abuse committed or facilitated online.
The Surrey High Intensity Partnership Programme responsible for working with partners to identify, and put multi-agency plans in place for, people experiencing mental health crises who cause the greatest demand on police and partner organisations.
The Sexual Offences Investigation Team responsible for the investigation of allegations of rape.
Criminal Justice & Custody responsible for management of custody suites to national standards, prosecution and case file management, victim and witness care, and restorative justice programmes.
Contact and Deployment department (C&D) responsible for:
CCTV strategy and management of CCTV Control Rooms operated by Surrey Police staff.
The Contact Centre which handles all telephone calls to 101 and 999 and general e-mail enquiries.
The Force Control Room which deploys officers and staff to immediate and priority incidents.
The Occurrence Management Unit which manages the allocation and finalisation of reports of crime.
Police Counters which manages front counters in police stations and shared premises.
Corporate Communications Department responsible for internal communications and external communications via traditional and social media, including reacting to requests for information and proactive campaigns.
Financial Services responsible for financial management, payroll, estates and fleet management.
Information and Communications Technology Department, responsible for the procurement, installation and management of all ICT, from computer systems to Airwave radios and mobile data terminals.
People Services responsible for all aspects of human resource management, from recruitment and retention to training and development, occupational health and wellbeing.
Professional Standards Department responsible for the investigation of misconduct by officers and staff, and management of complaints against officers and staff.
Service Quality Department responsible for performance management, crime data integrity, information access and other associated services.
---

Departments collaborated with Sussex Police
Operations Command, responsible for:
The Emergency Planning Team, responsible for liaison with partners as per the Civil Contingencies Act, via the Local Resilience Forum (LRF), to ensure that Surrey Police and the wider LRF are prepared for emergencies (from flooding, to disease outbreak to loss of critical national infrastructure), and have plans in place and tested for these eventualities.
The Firearms and Explosive Licensing Unit responsible for issuing, reviewing and revoking licenses for firearms, shotguns and explosives.
The Operational Planning Team, responsible for planning all major operations, including logistics, resourcing, briefing and support infrastructure, from regular events such as the Epsom Derby to single events such as the recent international meeting of Hell's Angels, or large scale mobilisations such as planning for the UK exiting the EU.
The Public Order Training Unit, responsible for training and accreditation of officers in Police Support Unit (PSU) tactics, Chemical, Biological, Radiological and Nuclear (CBRN) response, evidence gathering, PSU medic techniques, and Taser deployment.
The Roads Policing Unit responsible for patrol and enforcement activity on the Strategic Road Network, as well as serious collision investigation on all roads.
The Safer Camera Partnership, responsible for deployment of, and prosecutions from, both static and mobile speed cameras.
The Search Team, responsible for training and accreditation of officers to conduct counterterrorism and missing people searches.
The Tactical Firearms Unit, responsible for training and deployment of operational officers, tactical advisors and commanders across a range of firearms roles.
Specialist Crime Command, responsible for:
Cyber Crime Unit investigating crime committed or facilitated via the internet.
Digital Forensics Team managing the forensic analysis and evidence capture from digital items (whether computers, smartphones, tablets or any item connected to the internet).
Economic Crime Unit investigating fraud, money laundering and other economic crimes.
Forensics Teams managing the forensic analysis of physical (i.e. non-digital) items including fingerprinting and DNA sampling.
Intelligence Units, at both a force and local level, managing the collation, assessment, dissemination and development of intelligence.
Major Crime Team, investigating homicides, investigations with significant resourcing implications, and crimes in action (e.g. kidnapping).
Serious and Organised Crime Unit, investigating organised crime groups, from drug trafficking and sales, to modern slavery, immigration offences and human trafficking.
---

Regional collaboration
Regional collaborated units to which Surrey Police contributes resources, and upon which the force relies for support, include the South East Region Organised Crime Unit, Counter Terrorism Policing South East, Counter Terrorism Specialist Firearms Officers Hubs, and the South East Regional Integrated Policing programme. In addition, a number of functions, such as public order refresher training, will be delivered regionally by a single force, while regular regional meetings will take place to coordinate cross-boundary activity.
In addition to the units above based at either borough/district, divisional, force, bi-force or regional level, many officers will have secondary skills that could be called upon through mutual aid arrangements by any force in the UK, and which the force is under an obligation to maintain. These include skills such as PSU, Search, Firearms, and CBRN response. This list is far from exhaustive, and officers may be seconded in support of other forces or government departments for short-term responses to incidents (e.g. a single protest or sporting event) or for longer-term pieces of work (e.g. the Salisbury poisonings).
---

Surrey Police Performance
Surrey Police look at a range of performance measures in the form of a scorecard.  The latest scorecard can be viewed here  (Link).    Information candidates may be particularly interested in are crime levels, outcomes of crimes, call handling and inspection findings.  These are shown below.
Crime levels
| | | | | |
| --- | --- | --- | --- | --- |
| Surrey Police Recorded Crime[1] | 2017/18 | 2018/19 | 2019/20 | Surrey 2019/20 per 1000 population |
| Violence Against the Person[2] | 21432 | 23242 | 24353 | 20.5 |
| Sexual Offences | 2126 | 2393 | 2141 | 1.8 |
| Robbery | 352 | 485 | 437 | 0.4 |
| Burglary (residential and non-residential) | 6472 | 6053 | 6186 | 5.2 |
| Vehicle offences | 5860 | 6487 | 6885 | 5.8 |
| Other theft | 14882 | 15471 | 13691 | 11.5 |
| Criminal damage | 9604 | 9680 | 9651 | 8.1 |
| Drugs offences | 2476 | 2992 | 3028 | 2.5 |
| Possession of offensive weapons | 555 | 592 | 635 | 0.5 |
| Public order offences | 7472 | 7511 | 7999 | 6.7 |
| Miscellaneous crimes against society | 1622 | 1583 | 1710 | 1.4 |
| Total notifiable offences [3] | 72853 | 76489 | 76724 | 64.5 |

Crime Outcomes
| | | | | |
| --- | --- | --- | --- | --- |
| Surrey Police Outcomes – Suspect identified and action take %[4] | 2017/18 | 2018/19 | 2019/20 | England and Wales 2019/20 |
| Violence Against the Person[5] | 18.6% | 17.1% | 13.6% | 10.8% |
| Sexual Offences | 8.8% | 9.2% | 5.2% | 4.8% |
| Robbery | 15.3% | 11.8% | 10.3% | 8.8% |
| Burglary (residential and non-residential) | 5.7% | 6.3% | 3.5% | 5.6% |
| Vehicle offences | 2.6% | 3.8% | 2.5% | 2.5% |
| Other theft | 10.7% | 8.7% | 7.6% | 10.0% |
| Criminal damage | 7.9% | 8.2% | 7.4% | 8.6% |
| Drugs offences | 85.5% | 82.6% | 70.9% | 74.2% |
| Possession of offensive weapons | 54.6% | 58.1% | 46.1% | 47.7% |
| Public order offences | 16.5% | 16.8% | 15% | 12.5% |
| Miscellaneous crimes against society | 28.4% | 27.9% | 22.2% | 17.3% |
| Total notifiable offences [6] | 15.4% | 15.1% | 12.4% | 11.9% |
[1]Source:  Office for National Statistics.  https://www.ons.gov.uk/peoplepopulationandcommunity/crimeandjustice/bulletins/crimeinenglandandwales/yearendingmarch2020 This table shows police recorded crime in Surrey.   This will not be a true reflection of actual crime levels as not all crime is reported to police.  There has been a drive nationally and locally to encourage victims of traditionally under-reported 'high harm' crimes (domestic violence, sexual offences, child abuse and hate crime) to report to police.  Police activity also affects some crime types e.g. drug offences re often recorded as a result of police operations.   These figures provide a good indicator of police workload.   Changes over time can also be reflective of changes to counting rules.
[2] Includes homicide, violence with injury and violence without injury (including domestic violence) and from 2917/18 stalking and harassment
[3] Total notifiable offences, aka 'crimes', are the offences that the Home Office requires police forces to report as part of the national offence statistics.  Excludes fraud offences, which are generally recorded by Action Fraud and not part of the police recorded data.
[4] Source: www.gov.uk/government/statistics/police-recorded-crime-open-data-tables Once a crime is recorded there are 22 different ways police can record an outcome, for example charged, cautioned, suspect identified but evidential difficulties, no suspect identified, no outcome to date.  This % shows those cases where there has been a suspect identified and police action taken e.g. charge, caution, fixed penalty notice.
[5] Includes homicide, violence with injury and violence without injury (including domestic violence) and from 2917/18 stalking and harassment
[6] Total notifiable offences, aka 'crimes', are the offences that the Home Office requires police forces to report as part of the national offence statistics.  Excludes fraud offences, which are generally recorded by Action Fraud and not part of the police recorded data.
---

Call handling
999 Calls for Service Performance
The chart below shows the percentage of 999 calls answered within 10 seconds.


Average time to answer 101 calls
The chart below shows the average monthly times for 101 calls

---

Inspection findings
Her Majesty's Inspectorate of Constabulary and Fire & Rescue Service (HMICFRS) inspect police forces regularly.  Grades are given in 3 categories annual for each Police force: effectiveness, efficiency, legitimacy.  The grades for Surrey Police over the last few years are as follows:
| | | | | |
| --- | --- | --- | --- | --- |
| | 2016 | 2017 | 2018 | 2019 |
| The extent to which the force is effective at reducing crime and keeping people safe | Requires Improvement | Good | Good | Good |
| The extent to which the force operates efficiently and sustainably | Requires Improvement | Good | Good | Requires Improvement |
| The extent to which the force treats the public and its workforce legitimately | Good | Good | Good | Good |
The full reports for these findings, as well as other inspection reports for Surrey Police can be found HERE.