Surrey Police is among the fastest forces in the country in answering emergency calls to the public but there is still room for improvement to reach the national target.
That's the verdict of the county's Police and Crime Commissioner Lisa Townsend after a league table detailing how long it takes forces to answer 999 calls was published for the first time ever today.
Data released by the Home Office on all forces in the UK shows that between 1 November 2021 to 30 April 2022, Surrey Police were one of the top ten performing forces with 82% of 999 calls answered within 10 seconds.
The national average was 71% and only one force managed to reach the target of answering over 90% of calls within 10 seconds.
The data will now be published regularly as part of a drive to increase transparency and improve processes and the service to the public.
Commissioner Lisa Townsend said: "I have joined a number of shifts in our contact centre since becoming Commissioner and have seen first-hand the crucial role our staff do 24/7 being that first point of contact for our communities.
"We often talk about the policing frontline and the incredible job these staff do is at the absolute heart of that. A 999 call can be a matter of life or death so the demand on them is huge in a really high-pressure environment.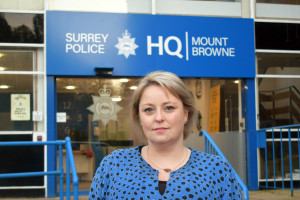 "I know the challenges the Covid-19 pandemic presented for policing were particularly acute for our contact centre staff so I want to thank them all on behalf of Surrey residents.
"The public quite rightly expect the police to respond to 999 calls quickly and effectively, so I am pleased to see that the data released today shows Surrey Police are among the fastest compared to other forces.
"But there is still work to do to reach the national target of 90% of emergency calls answered within 10 seconds. Together with how the Force is performing in answering our non-emergency 101 number, this is something I will be paying close attention to and holding the Chief Constable to account on going forward."
---
Share on: