Surrey County Council has worked at pace with partners to provide more emergency refuge accommodation for families escaping domestic abuse.
National demand for domestic abuse support has increased during the lockdown as people have been more isolated and less able to leave their houses for help. In June, calls to the Your Sanctuary Domestic Abuse helpline in Surrey have more than doubled pre-lockdown levels. Meanwhile visits to the national domestic abuse website have gone up by 950%.
The Council worked alongside partners Reigate and Banstead Women's Aid and Your Sanctuary, the Office of the Police and Crime Commissioner (OPCC) and the Community Foundation for Surrey.
Over the course of six weeks, the partnership identified an unused property in the county and developed it into extra refuge capacity. The building will provide space for seven families, with the scope to increase this up to eighteen families in the future.
The refuge opened on the 15th June, with Surrey County Council and partners recognising a need for it to be ready in time for the expected surge of survivors seeking help as lockdown restrictions eased.
Wings of the building have been named after strong women, including Maya Angelou, Rosa Parks, Greta Thunberg, Emily Pankhurst, Amelia Earhart, Malala Yousafzai and Beyoncé.
Leader of Surrey County Council, Tim Oliver said: "We're so proud to have been involved in this project. It's provided such vital support to families escaping domestic abuse during what is already an extremely challenging time.
"The work of our partners in this has been incredible and is an excellent example of Surrey's response to the coronavirus pandemic. It exemplifies what can be achieved in collaboration with our partners at speed.
"No family should have to endure the effects of domestic abuse at any time, which is why it is so important that families have the security of these refuge spaces should they need them."
Fiamma Pather, Chief Executive of Your Sanctuary, said: "This has been an exciting project bringing together organisations from the public and voluntary sector – building on our existing partnerships and working alliances here in Surrey in response to the COVID-19 crisis. We are very proud that more women and their children will have safe and supportive accommodation in order to start rebuilding their lives after the abuse and violence they have experienced."
Charlotte Kneer, CEO of Reigate and Banstead Women's Aid said: "It's startling to think how much we have achieved in six weeks. From an initial idea to opening a new refuge, does show what can happen when partners pull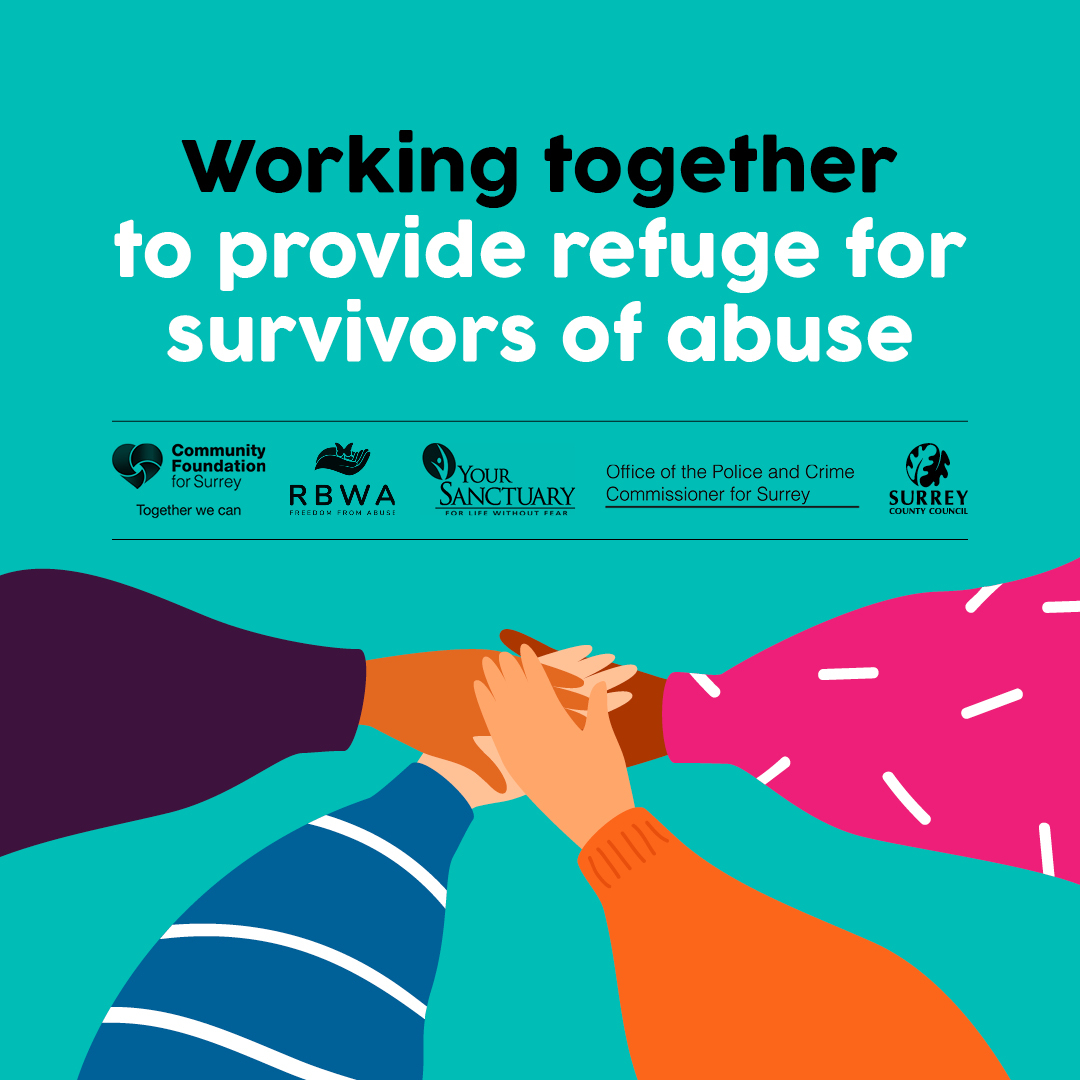 ---
together with a common goal.
"The women and children living at the refuge will be safe thanks to huge effort and commitment from everyone involved. We hope to help many families who may otherwise have had nowhere to go."
Surrey County Council will maintain the property whilst funding from the OPCC will enable the provision of specialist wraparound support for survivors.
OPCC Head of Policy and Commissioning Lisa Herrington said: "We are part of a strong partnership in Surrey, which has helped make a response at such speed possible, at an especially difficult time for those affected by domestic abuse.
"Funding from the PCC will play a key part in ensuring wrap around support by specialist workers is provided to help survivors, both adults and children, recover from harm and rebuild their lives."
An instrumental figure in delivering this new refuge accommodation has been Dave Hill CBE, Executive Director of Children, Lifelong Learning and Culture at Surrey County Council who very sadly passed away suddenly last week at the age of 61. Tim Oliver said: "Dave was passionate about the safety of children and families, and he was an essential part in driving this project forward. It is a fitting tribute to him, that this safe space is now available that will ultimately provide sanctuary and safety for some of Surrey's most vulnerable families. It is a symbol of everything he stood for, and I'm sure everyone involved in this project will join me in recognising Dave's immense contribution. He will be greatly missed."
Whilst the capacity has initially been secured for a period of 12 months, the aim of all involved in the project is to secure the sustainability of the capacity beyond this.
Anyone worried about or affected by domestic abuse in Surrey can contact the Your Sanctuary Domestic Abuse Helpline seven days a week from 9am – 9pm, on 01483 776822 or via online chat at https://yoursanctuary.org.uk. Always dial 999 in an emergency.
---
Share on: