The Police and Crime Commissioner for Surrey Lisa Townsend has condemned the actions of protesters who blocked fuel stations on the M25 this morning as 'selfish and unacceptable'.
Surrey Police officers were called to motorway services at both Cobham and Clacket Lane at around 7am this morning following reports that a number of protesters had caused damage at both sites and were blocking access to fuel with some gluing themselves to pumps and signs. Eight arrests have been made so far and more are expected to follow.
Commissioner Lisa Townsend said: "Yet again this morning we have seen damage caused and disruption to ordinary people's lives in the name of protest.
"The selfish actions of these protesters are completely unacceptable and I am pleased to see the swift response by Surrey Police who are working hard to minimise the impact on those using these areas. Unfortunately some of these protesters have glued themselves to various objects and removing them safely is a complex process that will take some time.
"Motorway service stations provide an important facility for motorists, particularly lorries and other vehicles transporting vital goods across the country.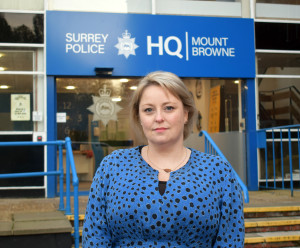 "The right to peaceful and lawful protest is important in a democratic society but the actions this morning step far beyond what is acceptable and serves only to cause disruption to those people going about their daily business.
"This has again resulted in valuable police resources being used to respond to the situation when their time could have been better spent policing in our communities."
---
Share on: