The Police and Crime Commissioner for Surrey Lisa Townsend has today given her backing to a campaign aimed at encouraging more victims of stalking to report offences to police.
To mark National Stalking Awareness Week (April 25-29), the Commissioner has joined other PCCs from across the country in committing to help increase reporting in their areas so those targeted can access the right support.
The week is run annually by the Suzy Lamplugh Trust to raise awareness of the devastating effect of stalking, focusing on different issues related to the crime.

This year's theme is 'Bridging the Gap' which aims to highlight the crucial role that Independent Stalking Advocates play in helping support victims through the criminal justice system.
Stalking Advocates are trained specialists who provide victims with expert advice and support during times of crisis.
In Surrey, the Police and Crime Commissioner's Office has provided funding for two Stalking Advocates and their associated training. One post is embedded in East Surrey Domestic Abuse Service to support victims of intimate stalking, and the other is being embedded within Surrey Police's Victim and Witness Care Unit.
Funding has also been provided for three stalking advocacy training workshops delivered by the Suzy Lamplugh Trust to wider staff. The PCC's office has also secured additional money from the Home Office to deliver stalking perpetrator interventions designed to address and de-escalate offending behaviour.
PCC Lisa Townsend said: "Stalking is a dangerous and frightening crime that can leave victims feeling helpless, terrified and isolated.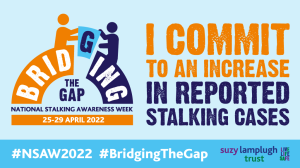 "It can take many forms, all of which can have a devastating impact on those who are targeted. Sadly, if the offending goes unchecked, it can lead to the most serious of consequences.
"We have to make sure that those who are the victims of stalking are not only encouraged to come forward and report it to the police but are also offered the right specialist support.
"That is why I am joining other PCCs across the country in actively encouraging an increase in reports of stalking in their areas so that victims can access that support and offender's behaviour can be addressed before it is too late.
"I am committed to ensuring my office are doing their part to help victims in Surrey. Over the last year we have provided funding for two Stalking Advocates in the county who we know can provide life-changing services to victims.
"We are also working with perpetrators to change their behaviour so we can continue to tackle this type of offending and protect those vulnerable people targeted by this sort of criminality."
To learn more about Stalking Awareness Week and the work the Suzy Lamplugh Trust are doing to tackle stalking visit: suzylamplugh.org/national-stalking-awareness-week-2022-bridging-the-gap
---
Share on: