When people are victims of crime, they need quality and timely support to help repair the harm done and rebuild lives.
The Ministry of Justice (MoJ) has granted our office approximately £1.3m to commission services to help victims to cope and recover from crime. In June 2020, the Office successfully bid for an additional £338,000 made available by the MoJ, to help key services cope with the expected surge in demand following the easing of Covid-19 pandemic restrictions.
The PCC's focus on Supporting Victims includes funding the Surrey Police Victim and Witness Care Unit as well as engaging with a range of organisations and individuals to improve the experience and effectiveness of the Criminal Justice System for victims.
Our dedicated Victim Fund and Coronavirus Support Fund provide additional grant funding to services supporting victims of domestic abuse and their families, sexual assault and rape. Visit our Funding Hub for more information or to apply.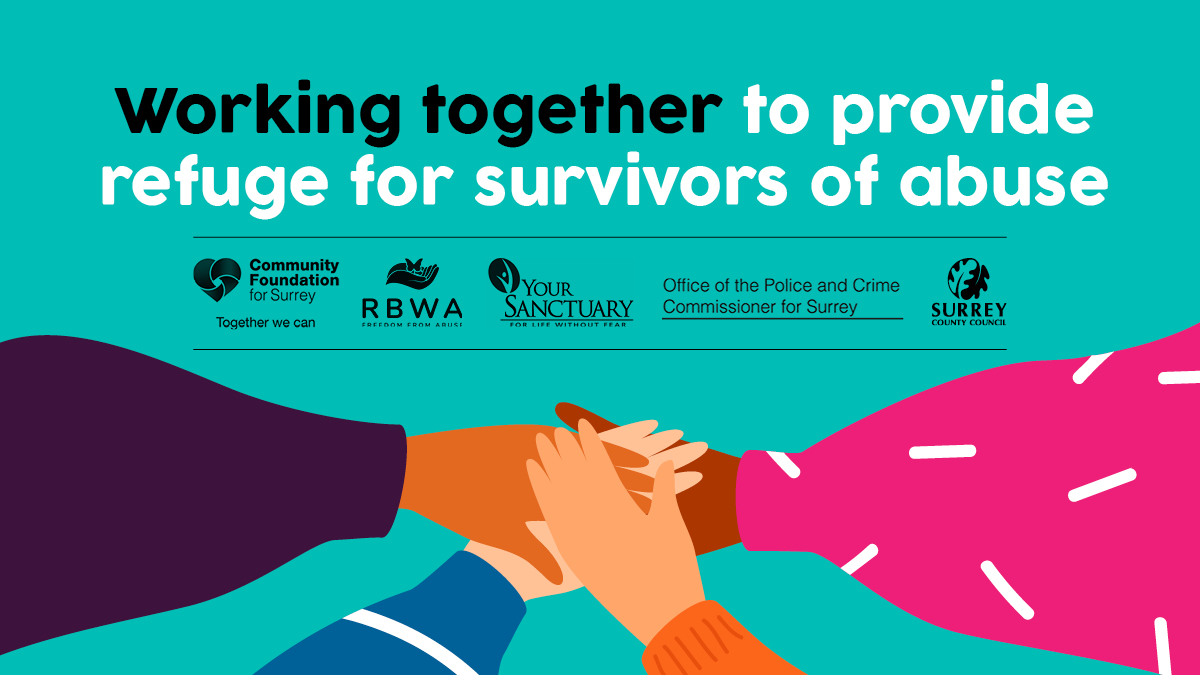 Our areas of work include:
Supporting victims of crime
When people in Surrey are victims of crime, whether they wish to report it to police or not, they need high quality services to help them cope and recover. The Police and Crime Plan   includes making sure victims of crime are supported to have a more positive experience of the whole criminal justice system – from the point of reporting, through to a resolution.
Providing specialist services
There are victims of crime and survivors who, due to the nature of their experience, their circumstances or both, require more specialist, longer-term support to rebuild their lives. This includes individuals who suffer domestic abuse, rape and serious sexual offences, children and victims of modern slavery.Our funding allows organisations in Surrey to provide expert, targeted support, while funding a dedicated Surrey Police Victim and Witness Care Unit that receives an average of over 8,000 referrals a month. It is important that that those with multiple needs in Surrey are identified and that we continue to work with our partners to provide the best possible support.
Supporting victims and witnesses through the Criminal Justice System
Police, courts, the Crown Prosecution Service and others support complainants and witnesses who come forward, as well as those accused of crime, and must ensure their journey through the criminal justice system is as smooth as possible.We're working hard to engage with individuals who have an involvement with the Criminal Justice System to identify where improvements can be made. For Victims, this could include funding assistance for disadvantaged or existing vulnerable individuals, or support to help make providing evidence and statements less traumatic, such as ensuring anonymity or the ability to testify remotely.
Ensuring value for money and collaboration
Funding provided by PCC's Office to support victims in Surrey needs to be spent to the best effect. We're working with our partners to co-commission and co-ordinate our spending and to continue to make sure we are collectively improving outcomes for victims. Full details of what we spend can be found on our Transparency and Funding pages.
Use the tabs below to find out more about the work we have done, and the work that we plan to continue supporting victims across Surrey:
The OPCC has met and heard from many victims – from people whose houses have been burgled to survivors of domestic abuse and sexual violence. The OPCC cannot succeed without its partners. We regularly listen to those who work with victims to make sure that we get it right for those that need our help the most.
They have told us that:
Victims want effective communication from agencies following a crime and want to be treated as an individual.

Victims report limited understanding of the Criminal Justice System – they do not understand the timescale required or where things may go wrong. Some feel that the system is balanced on the side of the offender.

Victims are frustrated with the length of time it takes to bring a case through the Criminal Justice System.

Whilst some victims did not need support services, others valued practical advice and guidance, emotional support, and information.

Victims who use support services value, and draw great strength from, the services that they access.

Victims who use specialist services, such as domestic abuse services, have told us that they are very satisfied with the service they receive.

Victims often feel exhausted by the time that they access services – they need the right first response and the right support to move forward.

Victims had mixed experiences of the statutory agencies they encounter. Some felt that they received an excellent service whilst others felt let down. Victims that we have spoken to tend to be more positive about police than other agencies.

Those that go to court can find the experience challenging or traumatic and value support.

Victims who are parents often worry about the impact of crime on their children.

Victims can feel very isolated by their experiences
The OPCC has invested in providing victims with the services that they need, by establishing an in-house Victim and Witness Care Unit run by Surrey Police, and supported by specialist services. These services are available to all victims of crime, whether or not they choose to report the crime to the police, for as long as they need it:
We have used our budget to make sure that male survivors of domestic abuse can access the support that they need.

We funded a helpline to help those suffering domestic abuse to access help.

We provided security kits to help to people at risk of violence to protect themselves and their homes.

We continued to provide additional support to victims of sexual violence including support for children and for adults who were abused in childhood.

We paid for witness rooms in courts to be refurbished so that witness can wait to give evidence in a friendly and safe environment.

We funded a service that supports children and young people who need to give evidence at court.
The OPCC has played a leading part on national work for victims. We have presented our work on sexual violence and domestic abuse to Parliament and it has been noted as an area of best practice. The OPCC have chaired and spoken at both local and national conferences on domestic abuse.
Locally, the OPCC plays a strategic role in helping to knit services together, identify where there are gaps and work with partners to co-commission.