The Police and Crime Commissioner Lisa Townsend has marked Anti-Social Behaviour Awareness Week by signing a commitment to continue working closely with partners to tackle issues in Surrey's communities.
The Commissioner joined senior colleagues from Surrey Police, Surrey Fire and Rescue, Surrey Crimestoppers and Surrey County Council in agreeing to the National Anti-Social Behaviour Principles at an event this week.
The principles set out how partners commit to working together to tackle the causes of ASB, encourage victims to come forward and be taken seriously and to take appropriate action to solve problems in our local communities.
The Commissioner has also been out and about talking to councillors and residents in Woodhatch and Caterham to discuss ASB issues in those areas.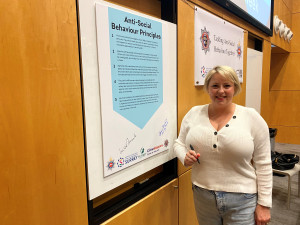 The PCC's office has a key role to play in the Community Trigger process in the county which is powerful tool to help with persistent ASB problems.
It also funds a number of projects including a mediation service which includes a victim coaching service and a number of activities for young people in the county to divert them from criminality.
The Joint Enforcement Teams, or JETs, that were set up in a various parts of the county thanks to PCC funding also have an important role to play in tackling ASB across Surrey.
Commissioner Lisa Townsend said: ""There is already a really strong partnership approach in the county so I was delighted to sign up to the Principles this week to cement that commitment to working together to tackle ASB.
"This type of criminality is often regarding by some as low level but we know that in truth it can destroy someone's quality of life and escalate into something far more serious.
"I know from speaking to residents across the county how highly they value the role our local policing teams play in tackling ASB issues in our communities.
"So, I was really pleased to see Surrey Police maintain its 'outstanding' rating in preventing anti-social behaviour following our recent inspection by HMICFRS – an area that features prominently in my Police and Crime Plan for the county.
"This grading was primarily down to the problem-solving approach the Force has worked hard to adopt in recent years in tackling the causes of ASB. This is continuing to pay dividends and is really good news for residents.
"So this week, I am supporting ASB Awareness Week and making sure this remains one of my key priorities during my term of office as Police and Crime Commissioner for Surrey."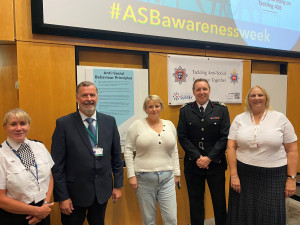 ---
Share on: