COMMISSIONER Lisa Townsend is raising awareness of a Government alarm that could expose "lifeline" secret phones hidden by survivors of domestic violence.
The Emergency Alert System test, which will take place at 3pm this Sunday, April 23, will cause mobile devices to emit a siren-like sound for around ten seconds, even if the phone is set to silent.
Modelled on similar schemes used in the US, Canada, Japan and The Netherlands, emergency alerts will warn Brits of life-threatening situations like flooding or wildfires.
Services established to support abuse survivors both nationally and in Surrey have warned that perpetrators of violence could discover hidden phones when the alarm sounds.
There are also concerns that fraudsters will use the test to scam vulnerable people.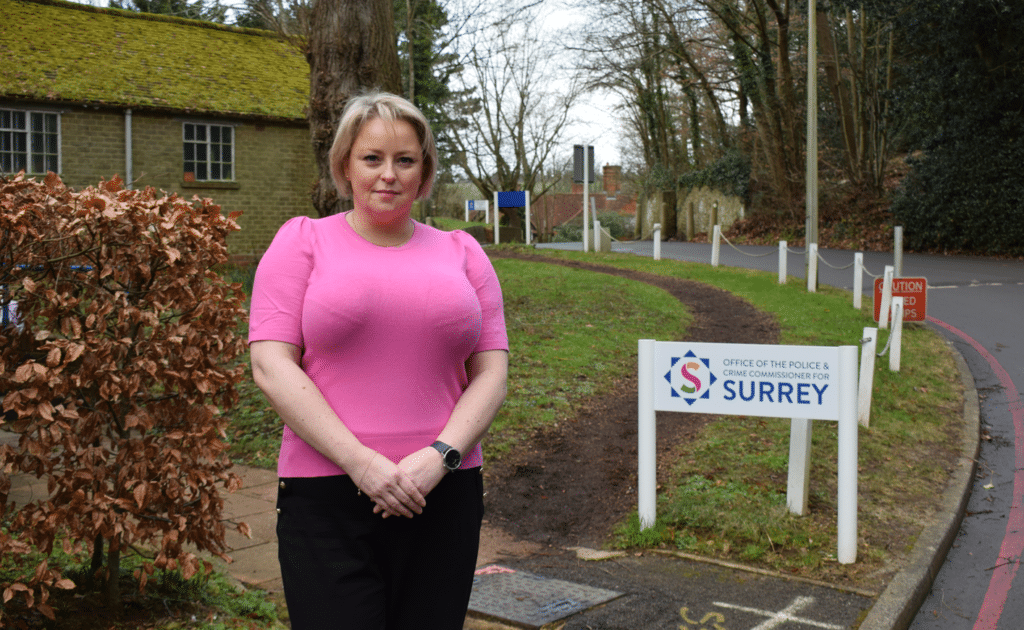 Lisa has sent a letter to the Government asking for victims of abuse to be issued with clear instructions on how to change the settings on their phone to prevent the alert from sounding.
The Cabinet Office has confirmed it is working with charities including Refuge to show those affected by violence how to disable the alarm.
Lisa said: "My office and Surrey Police stand shoulder-to-shoulder with the Government's aim of reducing violence against women and girls.
"I am encouraged by the progress to shine a light on perpetrators use of coercive and controlling behaviour, as well as the harm and isolation this causes and the ever-present danger adult and child victims are surviving day-to-day.
"This constant threat and fear of fatal abuse is why many victims may purposefully keep a secret phone as a vital lifeline.
"Other vulnerable groups may also be affected during this test. I am particularly concerned the fraudsters may use this event as an opportunity to target victims, as we saw during the pandemic.
"Fraud is now the most common crime in the UK, costing our economy billions of pounds each year, and its impact on those affected can be devastating, both psychologically and financially. As a result, I would also ask the Government to issue fraud prevention advice via its official channels."
In a statement released this week, the Cabinet Office said: "We understand the concerns from women's charities about victims of domestic abuse.
"That is why we have worked with groups like Refuge to get the message out about how to disable this alert on hidden mobile devices."
How to disable the alert
While it is recommended that the alerts should be kept on if at all possible, those with a secret device can opt out via their phone's settings.
On iOS devices, enter the 'notifications' tab and switch off 'severe alerts' and 'extreme alerts'.
Those with an android device should search for 'emergency alert' before using the toggle to switch it off.
The emergency siren will not be received if a phone is in aeroplane mode. Older smartphones which cannot access either 4G or 5G will also not get the notification.
---
Share on: