Police and Crime Commissioners were introduced in the Police Reform and Social Responsibility Act 2011, and were first elected on 17 November 2015. 40 of the 43 forces across England and Wales (excluding the Metropolitan Police, the City of London Police and Greater Manchester Police, where the Mayor acts as the Local Policing Body) currently have an elected Police and Crime Commissioner.
Nationally, Police and Crime Commissioners have a range of responsibilities. They are there to be the voice of the people, and to hold the police to account. On this page, you can find out more about the how these responsibilities relate to the work that we're doing in Surrey.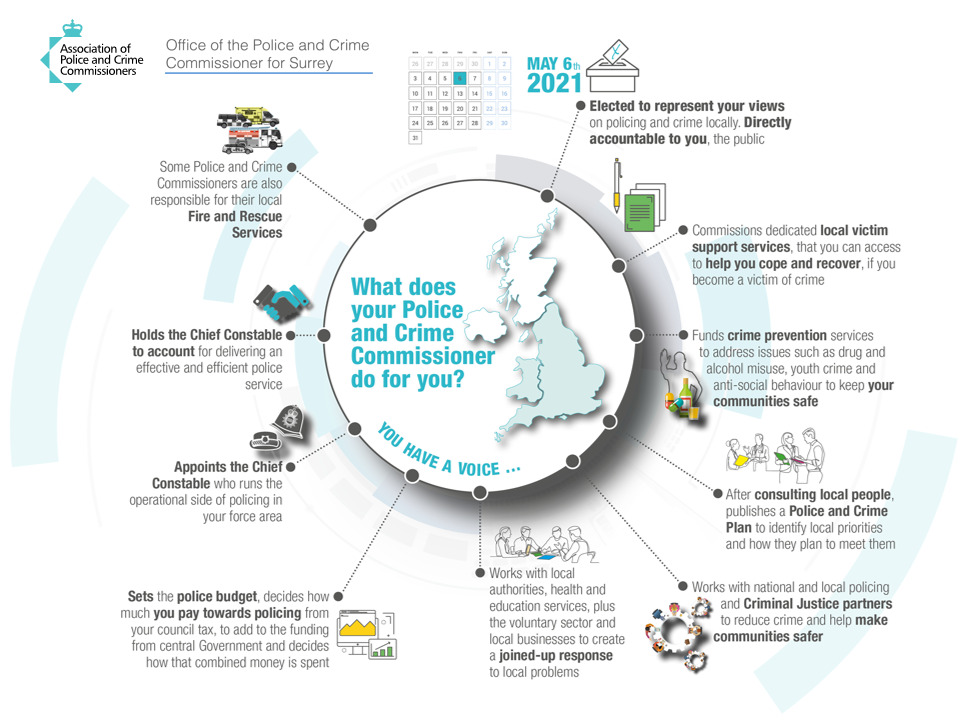 For a more detailed information on PCC powers and responsibilities, please visit the Home Office website.
The Police and Crime Commissioner is responsible for employing the Chief Constable of Surrey Police – hiring them, assessing their performance and, if necessary, disciplining or dismissing them.
Chief Constable Gavin Stephens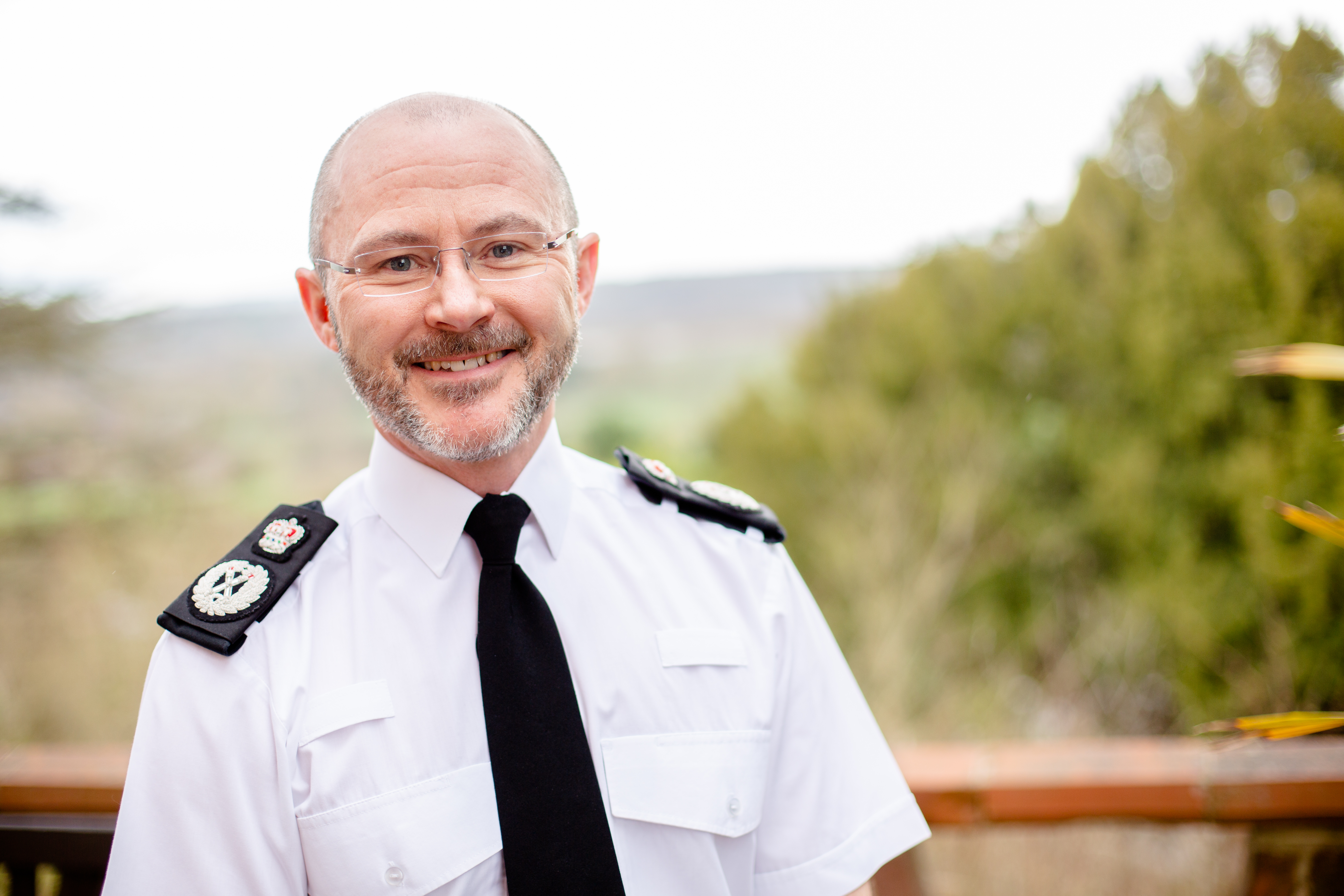 The Police and Crime Commissioner is responsible for agreeing the budget for Surrey Police and overseeing how it is spent. As well as receiving funding from Government grants, the Commissioner is also responsible for setting the amount of money you will pay for policing as part of your annual council tax bill.
Police funding and the financial arrangements for public bodies are by their nature complicated subjects and the Commissioner has a wide range of responsibilities in terms of how it sets the budget, monitors spending, maximises value for money and reports its financial performance.
The Medium Term Financial Plan sets out the potential financial challenges Surrey Police may face over the next 3 years. Although there is significant uncertainty in respect of Government Funding, increases in costs, demand etc. it is likely that further efficiencies will need to be delivered if services are to be maintained.
See the Medium Term Financial Plan here.
Members of the public are entitled to inspect the accounts of the PCC and Chief Constable:
The Police and Crime Commissioner holds the Chief Constable to account by monitoring performance in all of the key areas of Surrey Police's work. This includes:
Crime Levels

Resolution of crimes

Response times

Tackling organised criminal groups

Public confidence and satisfaction in the Police

Call handling and other contact with the public

Preparedness for emergencies

Professional standards and complaints against the Police
He does so at regular performance meetings. The Public Performance meeting is webcast for the public to view. Watch the most recent meetings below:
Scheme of Governance:
The Scheme of Governance comprises a number of different elements which, when taken together, give clarity to the way the PCC and Chief Constable intend to govern Surrey Police.  The arrangements set out in the Scheme are intended to ensure business is conducted in the right way, for the right reasons and at the right time and to make sure that public money is safeguarded, properly accounted for and used economically and efficiently.  The Scheme comprises:
Surrey Code of Corporate Governance: This describes how the PCC and Chief Constable achieve the core principles of 'good governance'.
Concordat: This document details the general principles of how the PCC and Chief Constable will work together.
Framework for Decision Making and Accountability: This describes how the PCC will make/publish key decisions and fulfil his/her responsibilities to hold the Chief Constable to account.  It also sets out the role of the Audit Committee. 
Surrey Sussex PCC Scheme of Delegation: This sets out the key roles of the PCC/Chief Constable and those functions they delegate to others.
Memorandum of Understanding and Schedule: The MOU describes how the PCC and Chief Constable will work together and ensure sufficient support in areas such as estates management, procurement, finance, HR, communications and corporate development.
Financial Regulations: These set out the framework for managing the PCC's financial affairs.
Contract Standing Orders: These describe the rules for the procurement of goods, works and services. Contracts are issued in the name of the PCC and the Chief Constable  operates within the parameters of Contract Standing Orders.
Supplemental Statement of Governance – Building the Future – This sets out the additional Governance put in place for the development of the new Surrey Police Headquarters otherwise known as "Building the Future". 
Review of the Scheme
A review of the Scheme in its entirety has recently taken place (2018/19), in consultation with the Joint Audit Committee and colleagues in Sussex Police/OPCC.  The changes that have been made have been primarily about clarification to the existing text and do not result in any material change to the principles on which the original documents were based.
Surrey Police & Crime Commissioner, and Surrey Police Joint Audit Committee Members
Under the current governance arrangements for policing, Surrey Police and the Police and Crime Commissioner require a Joint Audit Committee to provide independent and effective assurance about the adequacy of financial management and reporting. The Committee will help to raise the profile of internal control, risk management and financial reporting issues within Surrey Police and provide a forum for discussion with internal and external auditors.
The Committee comprises six independent members. View the Committee's Terms of Reference
To view the agendas, minutes and papers for the Joint Audit Committee, visit our 'Meetings and Agendas' page.
Paul Brown – Chairman of the Audit Committee
Paul has nearly 40 years of international experience working for blue chip companies including BOC, AMEC, KBR and AEA. For most of the last 20 years he has held board level positions and has had responsibility for leading major transformation programmes in the public and private sectors. In the last 12 years, Paul has obtained important public sector roles including Operations Director for the Forensic Science Service and Chief Operating Officer for the Office for Nuclear Regulation. Paul is currently senior advisor to a number of organisations and brings a wide range of operational and transformation management experiences to the committee with a particular interest in performance management and people development. Paul is a Fellow of the Institution of Mechanical Engineers and a Chartered Engineer. View Paul's disclosable interests
Rachel Evans 
Bio to follow
Lorna Harnby
Lorna spent the first part of her career as an equity Fund Manager at Fleming Investment Management (now JP Morgan Investment Management) where she started as a graduate trainee and rose to become a Director and Head of Research specialising in continental European companies. She managed funds for unit trusts, pension funds and investment trusts and her career took her all over the world.  After a break to raise a family, Lorna built a second career in governance, first as a Clerk to the Governors of a primary school in Cranleigh and later in similar roles for local and national charities. She returned to the world of finance and now manages the investment process of a Surrey wealth manager and sits on the investment advisory committee for a national discretionary fund manager. For the last five years, Lorna has been an assessor on the Surrey panel of the Queen's Award for Voluntary Service. Lorna is married with two grown up daughters and brings a unique combination of financial and governance skills to the JAC.
Graham Lancaster
Graham is a Chartered Accountant with over 30 years' experience within IT and Financial Services, holding European and global Finance Director roles. During his career he has gained extensive expertise in setting business strategy, managing operational delivery, audit & governance processes, commercial & financial management, performance measurement, IT, outsourcing and business process transformation. Graham has been a Partner and the Finance Director of TORI Global, an IT consultancy and solutions company, since its start-up in 2002 and is now a Non-Executive Director responsible for Governance, Legal and Risk. View Graham's disclosable interests
Patrick Molineux
Patrick has 35 years of international experience working in the insurance and IT services industries. After 8 years in the insurance industry, from 1996 to 2017 Patrick worked for Computer Sciences Corporation (CSC), a global IT services firm, in various positions across sales, marketing, strategy, project and programme management and consulting, ultimately running CSC's insurance IT services business in the UK and acting as Chief Strategy Officer for its global insurance business. Patrick is currently Managing Director of LIMOSS, a not-for-profit company he established, owned by the London Insurance Market, that sources and operates common IT and business process services used by firms operating in the London Insurance Market.
Paul Roberts
Paul began his career with PWC and has more than 35 years of experience working in finance, planning and strategy teams with multi-national businesses in the oil and gas industry and in international banking. He has spent significant periods in senior operational finance roles on major oil construction projects and in oil and gas production operations both in the UK and overseas. In the last 15 years Paul has worked on financial planning and business strategy for European and Middle East based businesses in international banking. Paul brings a wide range of financial management, planning and governance experience to the committee. Click here to view Paul's disclosable interests
The Office of the Police & Crime Commissioner (OPCC) in Surrey is committed to the highest possible standards of honesty and openness, probity and accountability. The OPCC seeks to conduct its business in a responsible manner, ensuring that all its activities are open and effectively managed and that its integrity is sustained. It expects the same standards from the Force it oversees. In line with that commitment, the OPCC encourages any of its staff- and indeed the Force's personnel – who have concerns about any aspect of the Force or OPCC's work to come forward and voice those concerns. The OPCC ensures that policies are in place to enable people to expose wrong-doing or misconduct and support and protect those who do so.
Surrey Police's recently updated Whistleblowing and Financial Irregularities Procedure (available on the Force intranet) applies to all employees within the Office of the Police & Crime Commissioner. If someone from another organisation (Third Party) seeks to make a disclosure, as they are not an OPCC employee, the PCC cannot offer protection and it is suggested that they follow their own organisation's policy. The OPCC will, however, be willing to listen if for whatever reason a third party feels unable to raise a relevant issue through an external source. Contact the Chief Executive and Monitoring Officer for the OPCC.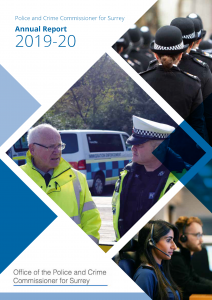 Each year the Police and Crime Commissioner publishes an Annual Report which reviews the progress made against the priorities in his Police and Crime Plan.
Collaborations
Surrey PCC and Surrey Police are part of a number of collaborative arrangements.  Collaboration with others allow efficiencies and savings to be made or can improve the provision of a service to the public.   Collaborations are governed by a Memorandum of Understanding or can be made as part of a legal framework – in particular Section 22A of the Police Action 1996.   This act also requires that PCCs and Chief Constables collaborate where it is in the interests of the efficiency or effectiveness of their own and other police force areas – even if they do not expect their own force to benefit directly itself.  Surrey collaborations take place at four main levels: nationally, regionally, locally between Surrey and Sussex Police and locally with other emergency services.
National collaborations:
The PCC is a member of the national Association of Police and Crime Commissioners (APCC) and the Chief Constable and fellow chief officers are members of the National Police Chiefs' Council (NPCC).  National collaboration arrangements are usually developed and overseen by representatives of APCC and NPCC and all S22A Agreements are signed off by PCCs and Chief Constables of all participating forces.
The current national collaboration agreements in place that Surrey is part of are:
National Police Air Service (NPAS) – providing air support to policing and delivered under a lead force model by West Yorkshire

National Police Co-ordination Centre (NPoCC) – responsible for coordinating the deployment of police officers and staff from across UK policing to support forces during large scale events, operations and in times of national crisis for example large scale flooding and civil emergencies. Hosted by the Metropolitan Police Service.

Forensic Analytical Services – allowing forces to work collaboratively to procure forensic analytical services

Criminal Records Office (ACRO) – the national unit which organises the management of criminal record information and improves links between criminal records and biometric information. Hosted by Hampshire Police

National Ballistics Intelligence Service – NABIS – providing a world-leading intelligence capability that ensures UK law enforcement agencies can quickly solve crimes where firearms have been used

Modern Slavery Transformation Fund – a national team led by a Lead Force which shall be responsible for supporting the NPCC Modern Slavery Lead to improve the police response across England and Wales to Modern Slavery

National Police Chiefs Council – hosted by the Metropolitan Police

National Vehicle Crime Intelligence Service

National Wildlife Crime Unit – NWCU

National Police Freedom of Information and Data Protection Unit

Single On-line Home (SOH) – offering the public an easy to use, digital platform where they can communicate effectively with their local police force. Hosted by the Metropolitan Police
Section 22 agreements are published in the PCC's Decision Log, unless they contain operationally sensitive information.
Regional Collaboration
Hampshire, Thames Valley, Surrey and Sussex Police collaborate on a regional basis.  A programme is in place and governed under the chief police officers at the SE Regional Integrated Policing (SERIP) Board, and by PCCs and chief constables at the Regional Governance Board.   The main collaboration areas are the South East Regional Organised Crime Unit (SEROCU) and Counter Terrorism Policing, South East (CTPSE).  These services are delivered under a Section 22A Collaboration Agreement. SERIP is also developing ICT and other support service arrangements for the South East.
Surrey/ Sussex Police Collaboration
Surrey and Sussex Police have a number of collaborated services, aimed at providing efficiencies and effective services across the two forces.  These include:
Specialist Crime Command – this command sees the two forces jointly dealing with major crime, serious and organised crime, economic crime, cyber-crime, intelligence, surveillance and forensic investigations

Operations Command – this collaborated unit provides operational policing resources for services such as drones, emergency planning, firearms, dogs unit, vehicle recovery, roads policing, public order and serious collision investigations. Generally these are policing services requiring specialist skills and training

Support Services – support services such as finance, HR and vetting are collaboration. In addition a programme is in place integrate the existing Surrey and Sussex Shared Business Services functions into a single structure ready to support the implementation of Enterprise Resource Planning into Surrey, Sussex and Thames Valley Police

Digital Transformation Programme – this coordinates work across the two forces on Mobile Data, Body Worn Video, Digital Evidence and the Single on-line home

Digital division – this programme was established in 2019 to bring together technical policing services to assist front-line policing

Contact and Deployment – joint ICT systems to record and handle enquiries from the public
Surrey Emergency Services
Surrey Police collaborates with Surrey Fire and Rescue Service (SFRS) and the South East Coast Ambulance Service (SECAMB).  This includes Joint Response Unit between police and ambulance, joint transport provision with the fire service and collaboration on emergency planning.