The safety of women and girls using the Basingstoke Canal in Woking has been given a boost by extra security measures currently being put in place thanks to funding secured by Police and Crime Commissioner Lisa Townsend's office.
Last year around £175,000 was awarded by the Home Office's Safer Streets Fund to tackle issues along the canal following a number of reports of indecent exposures and suspicious incidents since 2019.
The 13-mile stretch of canal running through Woking, a much-loved local beauty spot popular with dog-walkers and joggers, has been cleared of overgrown shrubbery and has seen the installation of new CCTV cameras which cover the towpath.
Evidence of crime in the area such as graffiti and litter was found to be contributing to some parts of the canal path feeling unsafe. This sentiment was reflected by some of the responses to Surrey Police's Call It Out Survey in 2021, in which some people reported feeling unsafe along the canal due to certain spots looking run-down.
Since then, with the help of Woking Borough Council and the Canal Authority, the Force has:
Begun to install new CCTV cameras to cover the length of the towpath

Invested in electronic bikes, allowing officers and volunteers from Canal Watch to patrol the path more effectively

Cut down overgrown shrubbery to improve visibility and allow more room for users of the canal to safely pass each other

Begun to remove graffiti along the canal, making the area a nicer place to be

Invested in signage which promotes early reporting of suspicious incidents, which is due to be installed in the coming weeks.
Part of the funding was also put towards promoting behaviour change among the community when it comes to violence against women and girls.
To do this, the Force teamed up with Woking Football Club to promote Do the Right Thing, a campaign which challenges bystanders to call out the misogynistic and harmful behaviour which allows violence against women and girls to continue.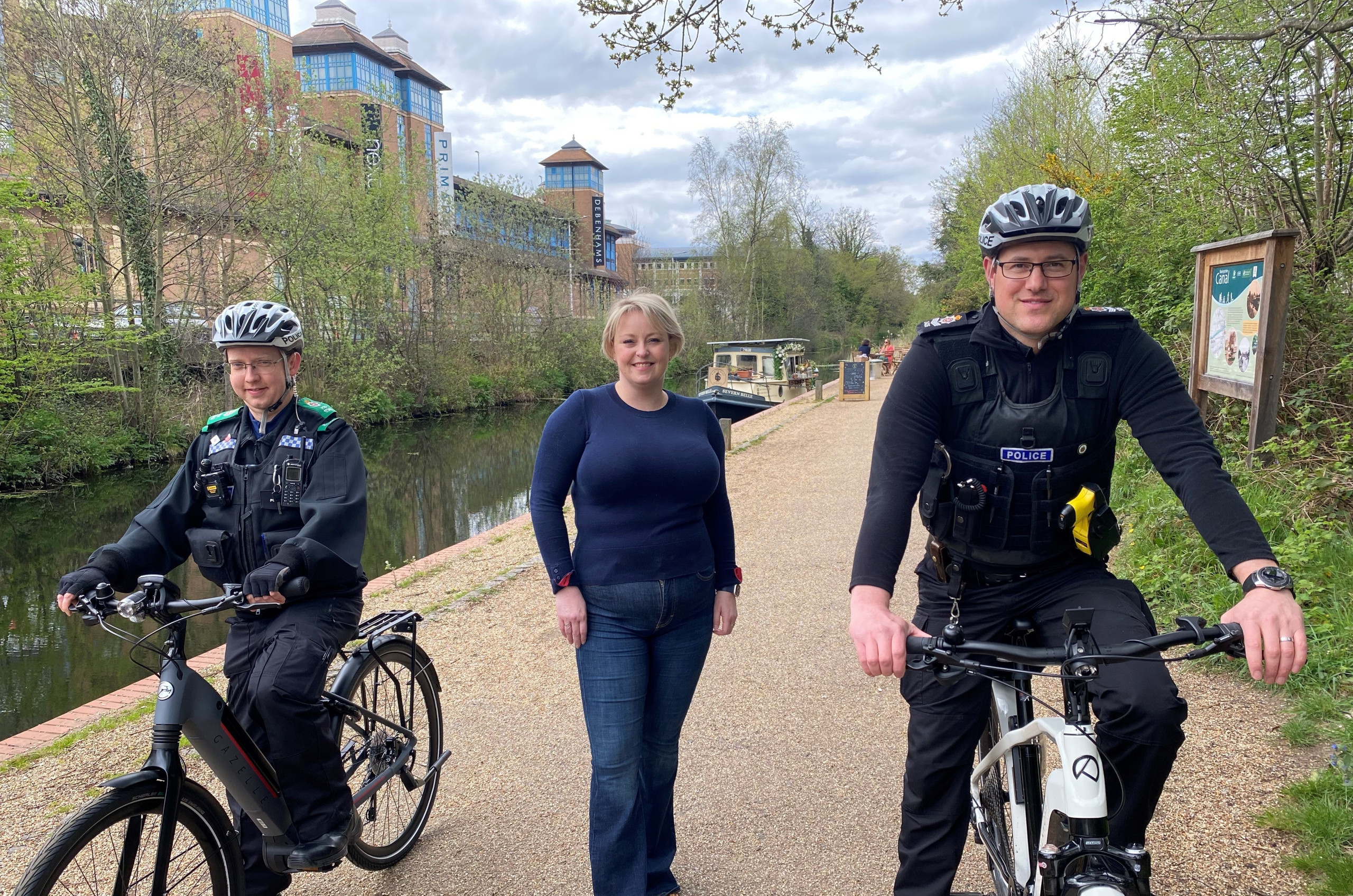 Visitors of the canal may notice the campaign on their coffee cup sleeves too, after local canal-boat coffee shop Kiwi and Scot also joined forces with Surrey Police to help tackle the issue.
Sergeant Tris Cansell, who has been leading the project, said: "We feel very strongly that no one should ever be made to feel unsafe when they're out enjoying their local area and we are committed to making this a reality across Woking, and particularly along the Basingstoke Canal.
"We recognised that in order to achieve this, we needed to take a holistic approach to tackle the issues from all sides and I hope that residents, in particular women and girls, will feel reassured by the new measures in place.
"I would also like to thank the Police and Crime Commissioner, Woking Borough Council, the Canal Authority, Woking Football Club and Kiwi and Scot for joining forces with us and helping to carry out this project. We are all totally united in our opposition to violence against women and girls, showing that offenders have no place in our community or beyond."
Police and Crime Commissioner Lisa Townsend said: "Ensuring we improve safety for women and girls in Surrey is one of the key priorities in my Police and Crime Plan so I am really pleased to see the progress that is being made in Woking thanks to the Safer Streets funding.
"I first visited the area and met the local policing team during my first week as Commissioner and I know they have been working really hard with our partners to tackle those issues along the canal.
"So it is fantastic to come back here a year later to see the huge effort that is going on to make this area safe for everyone to use. I hope that it will make a real difference to the community in this area."
To read more about the Safer Streets project, visit the Surrey Police website.
You can view the Do the Right Thing campaign video and access further information about calling out violence against women and girls here. To access the Do the Right Thing campaign video in partnership with Woking Football Club, click here.
---
Share on: