Surrey's Police and Crime Commissioner has reaffirmed her commitment to tackling violence against women and girls as the world marks the UN's International Day for the Elimination of Violence Against Women.
Lisa Townsend, who has made the issue a key priority in her Police and Crime Plan, urged anyone suffering from violence to come forward and have their voices heard.
The Commissioner has directed around £3.4million in funding over the course of the financial year towards tackling the issue. Many of the grants, awarded by various Government bodies, were spent on spent on services that support victims of sexual violence and domestic abuse.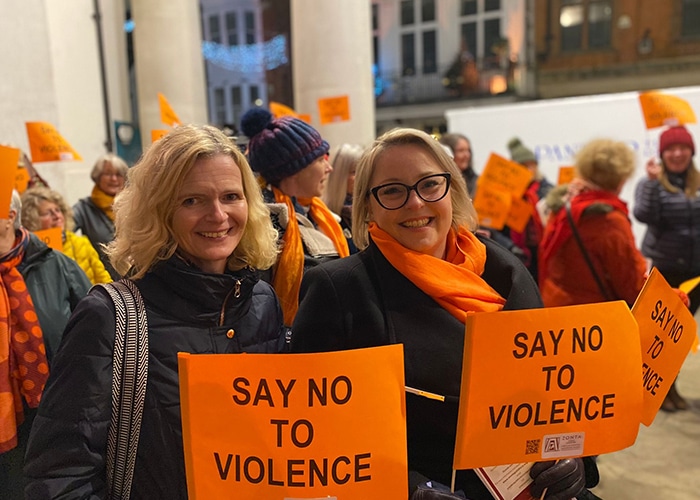 Lisa last month announced a successful bid for a £1m Home Office grant to challenge violence and abuse, which will be used on teacher training and public campaigning to help children and young people now and in the future.
She also recently secured £175,000 from the Home Office's Safer Streets Fund to improve safety for women and girls using the Basingstoke Canal in Woking. The project claimed a prestigious Tilley Award at a ceremony in October.
Violence against women and girls encompasses a range of offences, from stalking to sexual assault and so-called 'honour'-based violence. The county has at least 1,000 known repeat perpetrators of domestic violence.
In June last year, Surrey Police launched its Violence Against Women and Girls Strategy which is supported by the Office of the Police and Crime Commissioner, the local authority and various community groups.
The strategy, which aims to create a whole-system approach informed by survivors and those with experience of violence, followed a survey designed to better understand how safe women and girls feel in the county.
Lisa said: "My commitment in Surrey is work with our partners to create a county that not only is safe for women and girls, but also feels safe.
"The message to anyone suffering from violence is to call Surrey Police and report it. The Force was one of the first in the UK to launch a violence against women and girls strategy and our officers will always listen and help those in need.
'OUR OFFICERS WILL ALWAYS LISTEN'
"No matter what has happened, Surrey Police will support all survivors and I know our officers are determined to doing all they can to inspire trust and ensure residents are safe on our streets and in their homes.
"We must continue to work with the wider criminal justice system to pursue offenders and improve the experience for victims while making sure they are fully supported in their recovery.
"I am also committed to continuing to support those projects that can help challenge and change perpetrators' behaviour and do everything we can to end the cycle of violence against women and girls in our communities."
To report a crime, call 101 or visit the Surrey Police website. Always call 999 in an emergency.

---
Share on: