**Following the postponement of the May 2020 Police and Crime Commissioner election due to the Covid-19 pandemic, legislation was amended so that PCCs could extend their Police and Crime Plans by a year. PCC David Munro has extended his plan, set out in this section, until May 2021 when the rescheduled election is due to take place.
However, the PCC has agreed with the Chief Constable to focus on three areas in 2020/21: 
More police officers and frontline officers
Better crime prevention
More crimes solved 
Shortly after my election as Police and Crime Commissioner in 2016, I issued a new Police and Crime Plan; a key document setting out the priorities for policing, crime reduction and community safety in Surrey. Almost four years into my term of office, much has been achieved.
I have appointed Chief Constable Gavin Stephens who has in turn established a stable top team at Surrey Police. I have reviewed the funding required for the Force and provided a more secure financial basis on which it can consolidate its plans for the future. I have reviewed the projects funded by my office to make sure they improve safety for the residents of Surrey, with a particular emphasis on reducing re-offending.
A new policing model has been successfully implemented in Surrey, allowing the police to balance demands from serious and complex crimes with the need to retain visible, local policing. Partnerships with local authorities, businesses and third sector organisations have been reinvigorated. Her Majesty's Inspectorate for Police and Fire & Rescue Services has recognised the improvements made by Surrey Police with improved grades across the board, and the first 'outstanding' rating received, for neighbourhood policing, in September 2019.
Over the next year I want to see Surrey Police, my office and partners build on this progress. The Force must continue to stay ahead of new crimes, crack down on emerging trends as they occur (such as the current increase in burglary) and keep all of Surrey's diverse communities safe. Victims of crime must be properly supported and I will work with the Chief Constable to maintain the high levels of confidence people have in Surrey Police.
This is a crucial time for policing as every force looks to play its part in achieving the Policing Vision for 2025. I will work to ensure that Surrey Police is fit for the future by making the best of the available technology for policing and develop our estate to support our workforce and best serve the public. I will keep a focus on efficiency: exploring innovative ways to make savings; using available resources to their best effect; and attracting and retaining competent and capable officers and staff.
I would like to thank the police officers, staff, volunteers and partners who tirelessly work to make Surrey a safe place.
David Munro
Police and Crime Commissioner for Surrey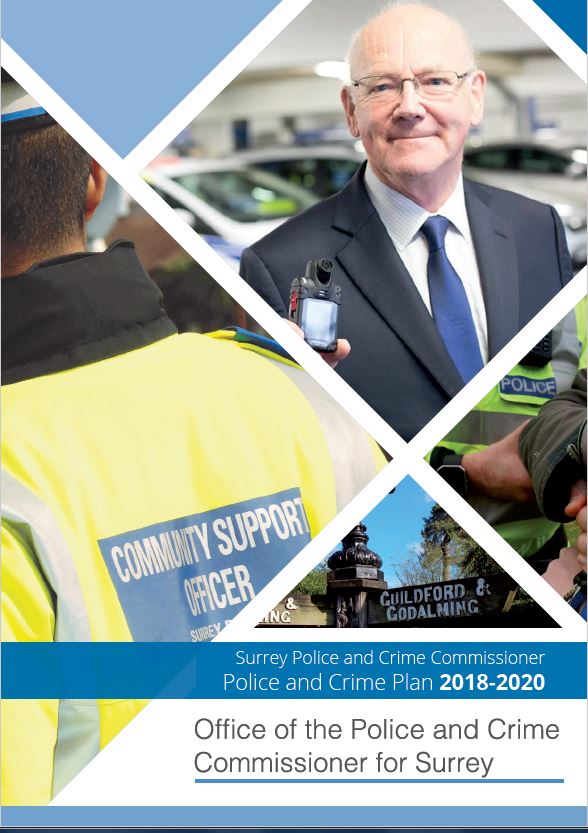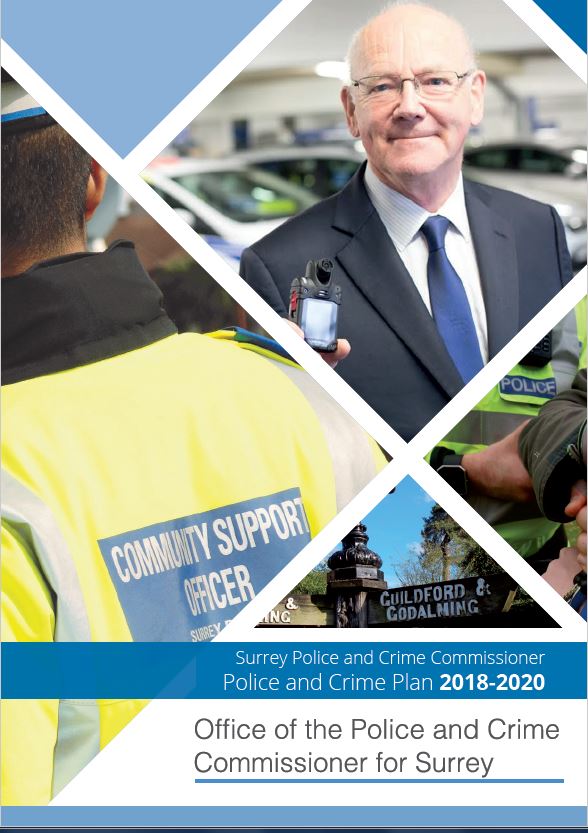 The Office of the Police and Crime Commissioner carried out a public consultation on the proposed plan earlier this year in which over 1,200 residents gave their views on the draft priorities. View the report on the public feedback here: Police and Crime Plan Consultation Report
Click below to see the PCC's short video on his new plan: