DEPUTY Police and Crime Commissioner Ellie Vesey-Thompson joined partners at a key event to promote the welfare of Surrey's services personnel and veterans last week.
The Surrey Armed Forces Covenant Conference 2023, organised by Surrey County Council on behalf of the Surrey Civilian Military Partnership Board, was hosted at the Pirbright Army Training Centre.
The event brought together representatives from across the public, private and third sectors to discuss the contribution made to society by the British Army, Royal Air Force and Royal Navy.
Throughout the day, guests heard speeches from a range of former and current personnel, including WO2 Johnson Beharry VC COG, who was awarded the Victoria Cross for his service in Iraq.
Two children who are supported by the Army Welfare Service and the wife of a serviceman also gave moving accounts of their experiences.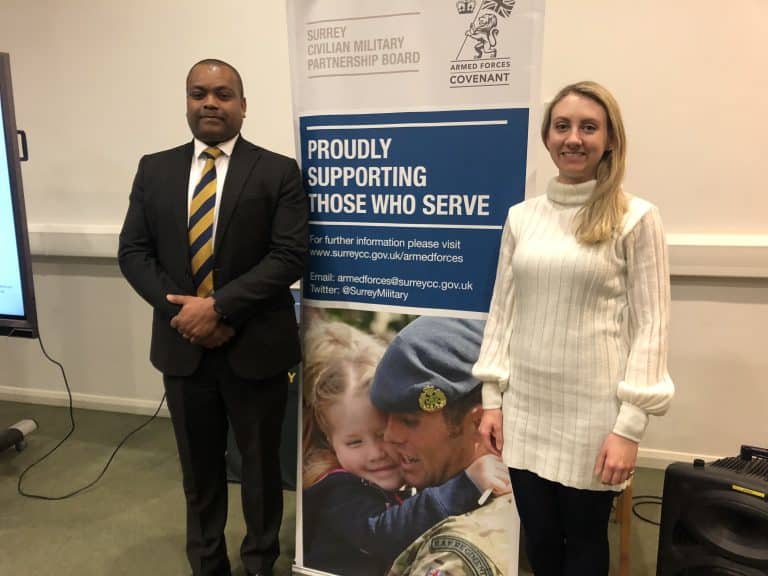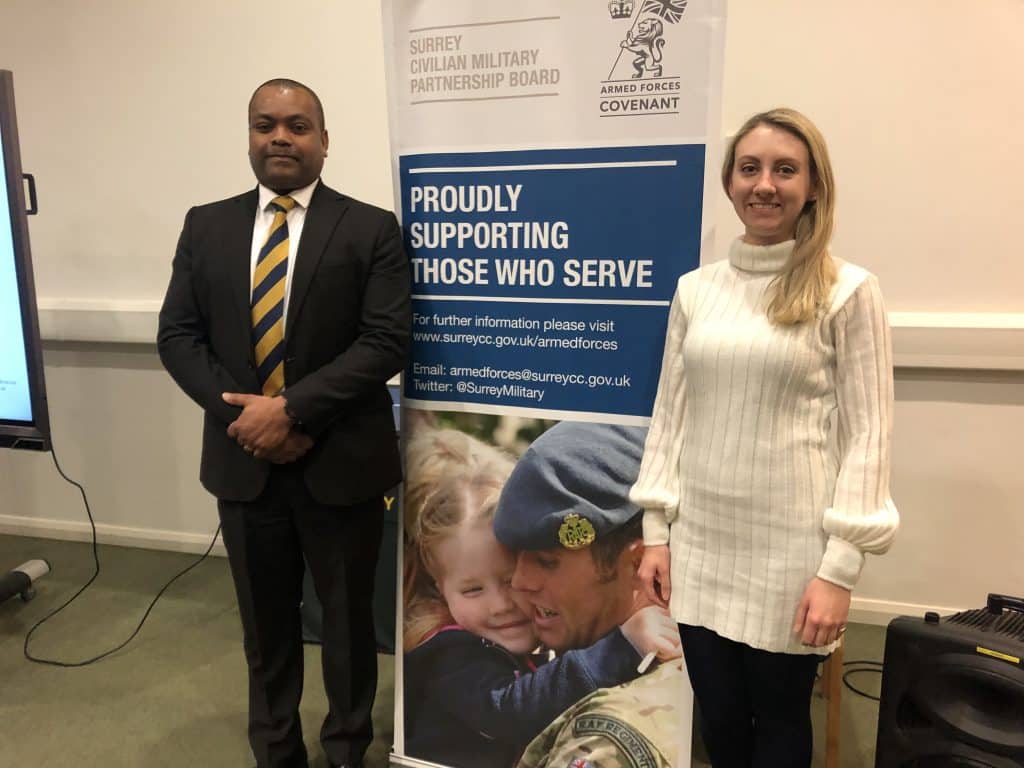 The Office of the Police and Crime Commissioner and Surrey Police are working together to achieve silver accreditation under the Ministry of Defence Employer Recognition Scheme Award.
The initiative acts as an assurance that forces personnel and veterans, their spouses and their children are treated with fairness and respect and guarantees the same access to services as any other citizen.
Surrey Police is an armed forces-friendly organisation and aims to support the employment of veterans and their partners. Serving police officers are also supported if they choose to become Reservists or Cadet leaders, and the Force actively participates in Armed Forces Day.
Ellie, who has responsibility for military personnel and veterans in Surrey as part of her remit, said: "The contribution to our society made by servicemen and women should never be forgotten, and WO2 Beharry's talk was a powerful reminder of how great their sacrifice can be.
'Never forget'
"Those who are serving or have served in our armed forces deserve all the support we can offer them, and our current bronze status demonstrates our commitment to ensuring those who have served our country are treated fairly.
"I am pleased that further work we have done means that both our office and Surrey Police are preparing to seek silver status in the coming months.
"Many veterans choose to join the police service after leaving the forces, which is something we are proud of.
"Others may struggle to readjust to civilian life, and wherever possible, it is our responsibility to support those who have sacrificed so much.
"I am also mindful of the impact that the lifestyle of military families can have on children and young people growing up, from worries about the safety of a serving parent or guardian to the stress of moving home, changing schools and leaving friends.
"As lead for both Children and Young People and Military and Veterans on the Commissioner's behalf, I am determined to ensure our team do all we can, alongside our partners, to support these children and young people."
Helyn Clack, Chair of the Surrey Civilian Military Partnership Board, said: "We are very grateful to Pirbright ATC who once again hosted our annual conference. 
'Captivating'
"The theme for the event was a journey through the services and we were proud to welcome such fantastic speakers such as WO2 Beharry VC COG, who was captivating in telling us some of his stories, from childhood in Grenada to the UK, before joining the army and carrying out his acts of bravery.
"We also heard from others whose lives have been very much influenced by service life.
"We were pleased to welcome a vast array of partners who were all keen to find out more information about the outstanding work going on within Surrey to support our armed forces community.
"It's so important that organisations throughout our county do more to support our veterans, service personnel and their families under our duty of due regard from the Armed Forces Act to ensure they are not disadvantaged."
---
Share on: