The Police and Crime Commissioner for Surrey Lisa Townsend has welcomed new guidance issued this week which sets out tougher sanctions for officers who face misconduct proceedings, including those who commit violence against women and girls.
Officers involved in such behaviour should expect to be sacked and barred from ever re-joining the service, according to the updated guidance released by the College of Policing.
The guidance sets out how chief officers and legally qualified chairs who carry out misconduct hearings will assess the impact on public confidence as well as the seriousness of the officer's actions when making decisions on dismissals.
Further information on the guidance can be found here: Outcomes for police misconduct proceedings – updated guidance | College of Policing
Commissioner Lisa Townsend said: "In my view any officer involved in violence towards women and girls is not fit to wear to wear the uniform so I welcome this new guidance which sets out clearly what they can expect if they commit such behaviour.
"The vast majority of our officers and staff both here in Surrey and across the country are dedicated, committed and work around the clock to keep our communities safe.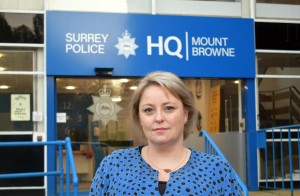 "Sadly, as we have seen in recent times, they have been let down by the actions of a very small minority whose behaviour tarnishes their reputation and damages that public trust in policing which we know is so important.
"There is no place for them in the service and I'm pleased this new guidance puts a clear emphasis on the impact such cases have on maintaining confidence in our police.
"Of course, our misconduct system must remain fair and transparent. But officers who commit any form of violence against women and girls should be left in no uncertain terms that they will be shown the door."
---
Share on: