The Police and Crime Commissioner for Surrey Lisa Townsend has joined the Women's Aid 'Deserve to be Heard' campaign calling for better mental health provision for survivors of domestic abuse.
To mark the start of this year's 16 Days of Activism against gender-based violence, the Commissioner has issued a joint statement with Women's Aid and the Surrey Domestic Abuse Partnership, asking the Government to recognise domestic abuse as a public health priority.
The statement also calls for sustainable funding for specialist domestic abuse services for survivors.
Community services such as helplines and specialist outreach workers account for around 70% of the assistance provided to survivors and play, alongside refuges, a fundamental part in halting the cycle of abuse.
Commissioner Lisa Townsend, who is also the Association of Police and Crime Commissioners National Lead for Mental Health and Custody, said every person needed to play a part in reducing the stigma attached to abuse and mental health.
She said: "We know that women and children who experience abuse suffer serious harm to their mental health that can include anxiety, PTSD, depression and suicidal thoughts. Raising awareness of the links between abuse and mental health sends an important message to survivors that there are people they can talk to that understand.
"We owe it to survivors of abuse to provide the right support to improve their mental health. We can and must keep pushing to ensure these services reach as many individuals as possible."
CEO for Women's Aid, Farah Nazeer said: "All women Deserve To Be Heard, but we know from our work with survivors that shame and stigma around domestic abuse and mental health prevent many women from speaking out. Coupled with the huge obstacles to accessing support – from long waiting times to the victim-blaming culture, which often asks women 'what is wrong with you? Rather than, 'what happened to you?' – survivors are being failed.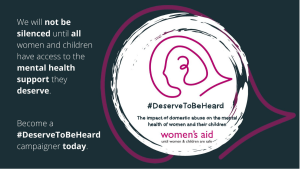 "We must work together to ensure that domestic abuse is recognised as a key cause of women's ill-mental health- and provide the holistic responses that survivors need to heal. This includes better understanding of trauma, greater partnership, including between mental health and domestic abuse services, and ring-fenced funding for specialist domestic abuse services led 'by and for' Black and minoritised women.
"Too many women are let down by the systems that are designed to help them. Through Deserve To Be Heard, we will ensure that survivors are listened to, and receive the support they need to heal and move forward."
In 2020/21, the Office of the PCC provided more funds to address violence against women and girls than ever before, including close to close to £900,000 in funding to local organisations to provide support to survivors of domestic abuse.
Anyone concerned about themselves or someone they know can access confidential advice and support from Surrey' independent specialist domestic abuse services by contacting the Your Sanctuary helpline 01483 776822 9am-9pm every day, or by visiting the Healthy Surrey website.
To report a crime or seek advice please call Surrey Police via 101, online or using social media. If you feel that you or someone you know is at immediate risk please always dial 999 in an emergency.
---
Share on: