Here are our winners from last week's Elmbridge Young Persons of Honour Awards held at Imber Court Police Club in East Molesey.
The awards, organised by PC Phil Jebb from the Elmbridge Borough Community Safety Team, recognise the achievements and bravery of young people aged between 8-18 years who live or go to school in the borough. Read more about their stories below: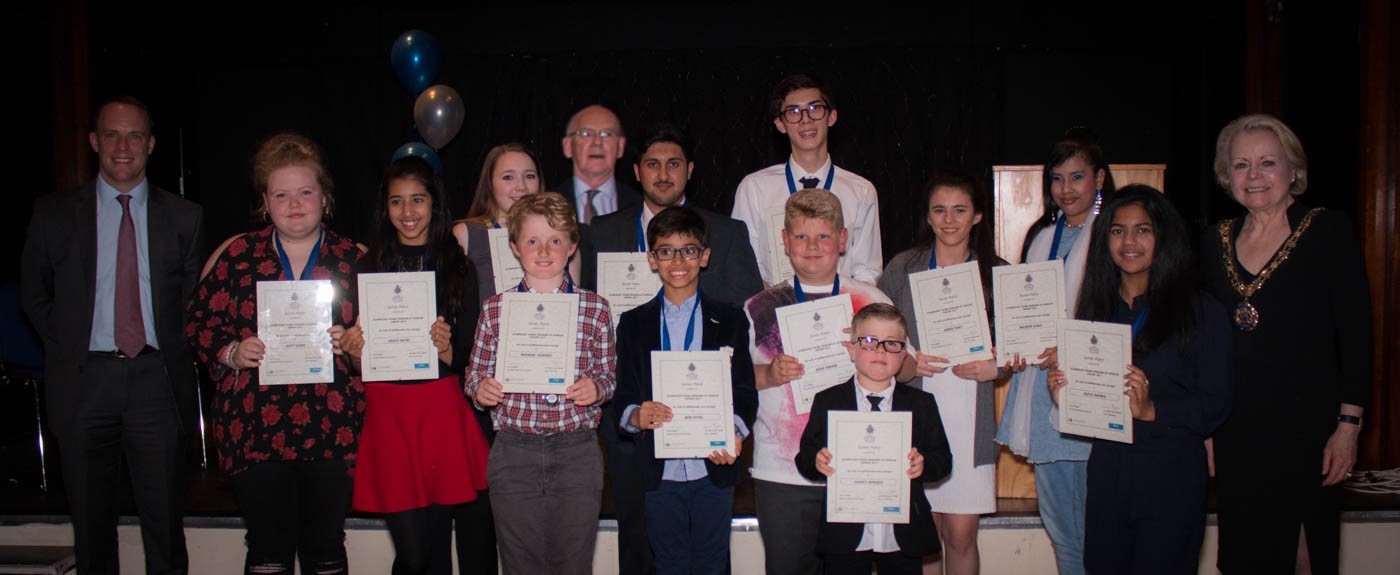 Winners in the Personal Adversity Category:
Rosie Morgan – Rosie works through chronic back, neck and facial pain on a daily basis. Despite undergoing treatment at Great Ormond Street Hospital, she is always smiling and willing to help others.
Emma Shaw – Emma is doing brilliantly well in life against all odds. She has faced huge traumas in her personal life which affected her physically and mentally. Despite all this she has turned herself around and has gained excellent exam grades. She is planning to go to university and is a fantastic role model for young people who have also experienced extreme difficulties in their lives.
Sean Thorn – Sean suffers with Cerebral Palsy. He is very resilient and doesn't let anything get in his way. He has regular medical appointments and assessments, but is always positive and takes everything in his stride.
Jaiya Aroba – Jaiya suffers from Spastic Diplegia, a form of Cerebral Palsy which affects her lower limbs. Despite this she takes part in whole school life as much as she can including taking part in the school dance shows and musicals. She is an inspiration to both staff and peers.
Maddoc Hughes – Maddoc was diagnosed with Langerhans' Cell Histiocytosis in 2015 and started a course of chemotherapy. He remained strong and cheerful throughout his illness and, as he was no longer able to play rugby his favourite sport, he took up swimming. He completed a one mile swim and raised an amazing £4,450.57.
Harry Spragg – Harry suffers from Duchenne Muscular Dystrophy which results in muscle weakness. He has to attend many hospital appointments, but he always shows perseverance and courage. He finds alternative ways to access physical activities and keeps his positive ethos at all times.
Kati Field – Kati has had an incredibly difficult and stressful time which started when she was 12. She has had to overcome considerable hurdles during her life both at school and at home. She has gradually managed to turn herself around which has not been an easy task and is now happy with life. She has gained very good GCSE results and is now at college. She also has a part-time job.
Winners in the Charity/Role Model Category:
Abbie Poet and Nazrin Ahad – the girls attend the Claygate Youth Club weekly, help to set up and assist others in arts and crafts. They encourage other young people in the club and are the last to leave after helping to clear up.
Winner in the Role Model/Young Carer Category:
Caspar Yim – Caspar became an active member of the Student Council at Hinchley Wood School from an early age. In the sixth form he became a senior student leader and has organised the entire Student Council system. He has presented whole school assemblies and has been part of many changes around the school. He is also involved in the school Equalities Group and so many other activities in school including fundraising. He does all this while also caring for his elderly grandmother.
Winner in the Young Carer Category:
Katy Gunn – Katy is a Young Carer who is dedicated to her family providing main support to her mum, brother and sister who have numerous needs. Despite this she maintains her grades at Rydens Enterprise School and has approached recent problems with maturity and courage.
Winner in the Service to School Category:
Hamzah Rasheed – Hamzah is a member of the 6th form student leadership team at Rydens Enterprise School and has co-ordinated a whole school effort to create hampers for Walton food bank. He co-ordinated 6th form rag week raising £738 again for Walton food bank. He is charity captain for Windsor House and helps to co-ordinate their fundraising events enlisting the help of other tutor groups.
Winners in the Bravery Category:
A 12-year-old girl and 9-year-old boy from Esher – the pair were at home in the care of their au pair in February this year when the girl came face to face with a burglar in their house. When she screamed, the man ran off. Despite being very frightened, the quick thinking girl got her brother and the au pair into a place of safety, locked them all in a bedroom and then phoned the police. The police investigation into this incident is currently on-going and the children cannot be named as they are victims of crime.
David Munro, Police and Crime Commissioner for Surrey said: "This event was a great celebration which really brought the local community in Elmbridge together.
"It was a privilege to meet such inspirational young people receiving awards for their hard work and dedication.
"These youngsters demonstrate that anything is possible, regardless of your age, and they should feel proud of themselves and their achievements."
PC Phil Jebb said: "I'm really pleased the awards are still proving to be so popular amongst the Elmbridge community and it's certainly been a most enjoyable evening.
"Like so many in the room I was truly humbled and moved by the amazing stories I heard during the evening and I hope the awards go some way to reminding these exceptionally gifted and courageous young people that all their hard work is being recognised.
"I would also like to express our thanks to the group of Surrey Police volunteers who helped me organise the event and to our sponsors, The Walton Charity, Police Mutual, Sainsbury's Cobham and the Office of the Police and Crime Commissioner for Surrey for their kind donations."
The event took place on 5 May and was attended by the Mayor of Elmbridge, Tannia Shipley, Parliamentary Candidate Dominic Raab, David Munro, Elmbridge Inspector Sarah Milligan, PC Phil Jebb, PCSO Jazz Reed and two Surrey Police Cadets who helped on the night.
---
Share on: