Police and Crime Commissioner for Surrey, Kevin Hurley, has today unveiled the latest addition to the Surrey Search & Rescue (SurSAR) vehicle fleet at Surrey Police HQ, Guildford.
The vehicle, callsign "Victor", has been paid for by the PCC's Community Safety Fund, which offers financial support to a broad range of organisations from the community safety and criminal justice sectors, to voluntary and community groups, who have an interest in helping make Surrey an even safer place to live and work. Costing the Office of the Police and Crime Commissioner £32,459.08, this custom built VW Amarok will go on to help SurSAR provide an even faster service to those who desperately need them.
Kevin Hurley said:
"It is one of the privileges of this office to be able to support great organisations who are committed to doing something positive for the community.
"SurSAR play a vital role in assisting Surrey Police in the search and recovery of vulnerable missing persons county-wide, and I am delighted to be supporting them with this new vehicle. They are a dedicated group of volunteers to give up their own time to ensure the safety of others, and it is only right that we do all we can to support this fantastic organisation."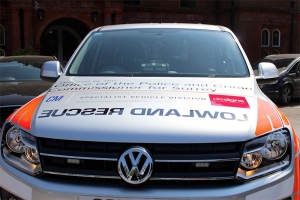 SurSAR are a member of the Lowland Rescue, who provide specialist support to the emergency services, along with partner organisation the RNLI and Mountain Rescue. They are a team comprised of 90 volunteers, all of whom are on standby at a moment's notice to lead the search for missing people. The new vehicle will help SurSAR provide an even faster service to those who desperately need them.
James Rossell, Trustee at SurSAR, said:
"This vehicle will replace our 18 year old Landrover Defender as our initial response vehicle. It will carry all our essential medical equipment like stretchers, entonox and defibrillator allowing us to get to missing people within minutes of finding them.
"The vehicle is also fitted with the latest GPS tracking technology to pinpoint exactly where our search teams are in real time.
"We are extremely grateful to the Office of the Police and Crime Commissioner for the support to our life-saving charity."
---
Share on: