Surrey Police and Crime Commissioner (PCC) David Munro and his team were recognised for their continued commitment to conducting business transparently in a recent ceremony held in London on Monday, 28 November 2016.
Along with 12 other Office of Police and Crime Commissioners (OPCC), the award was presented to Surrey OPCC by Bernard Rix, CoPaCC Chief Executive.
CoPaCC, an organisation that compares OPCCs on their statutory requirements to be open and transparent, congratulated Surrey OPCC on achieving this quality mark and commended the work of all OPCCs receiving the award.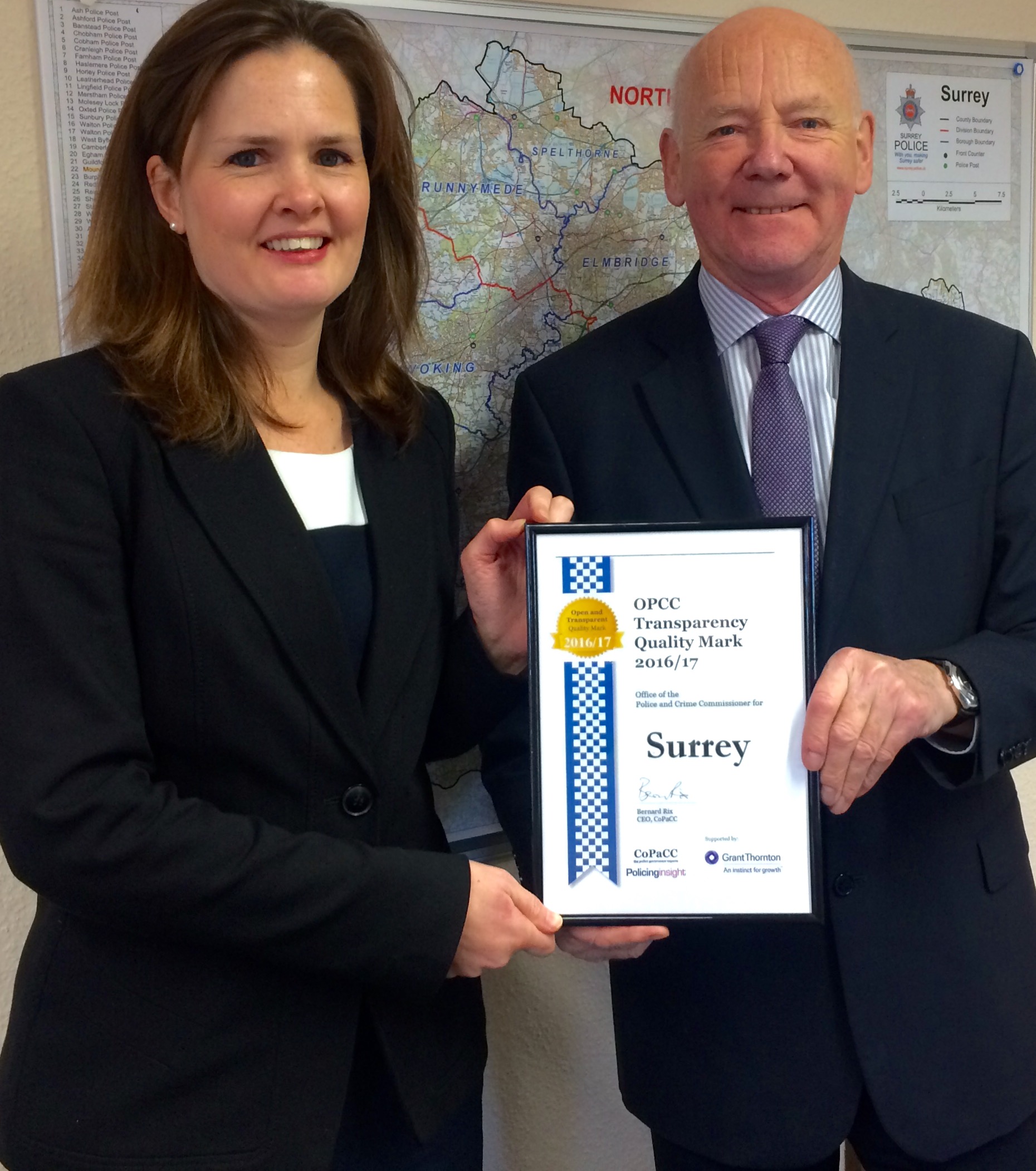 PCC David Munro said: "Transparency is key to communicating with the public and delivering a positive service. Throughout my time as PCC I have maintained this view and continued to ensure myself and those in the office are open and transparent with the Surrey community.
"It is therefore critical that to manage this, information is readily accessible and available to them, whilst being fit for purpose and understandable. Without these attributes, the information becomes redundant.
"I am pleased that my office has been recognised with this quality mark but we mustn't let this cause us to become complacent. I remain truly focused in delivering an open service to those living, working and visiting Surrey through items such as a dedicated 'Transparency Page' on the website, meeting legal requirements and conducting relevant open community meetings in a clear and concise manner.
"I will continue to speak on behalf of the community to offer the quality of service that they deserve in order to retain and build upon trust and to keep Surrey the safest county it can be."
To find out more about CoPaCC, please visit their website: http://copacc.org.uk/.
---
Share on: