The Police and Crime Commissioners (PCCs) for Surrey, Sussex and Thames Valley have signed a landmark contract worth £1.8m per year with independent charity Victim Support to provide emotional and practical support services for victims of crime in their areas. The contract provides for a victim referral and assessment centre, along with local support services.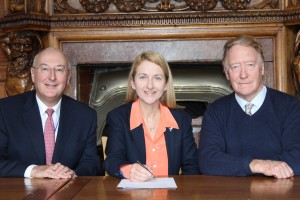 The agreement is signed as responsibility for commissioning the majority of victims' services transfers from the Ministry of Justice to Police and Crime Commissioners from October 2014. For the first time, these services provided to support victims of crime in Surrey, Sussex and Thames Valley will be managed through a local contract. This means that Victim Support will be directly accountable to PCCs, rather than to Westminster, helping to ensure that local needs are being met.
The framework agreed upon in this contract also allows other PCCs to join in future, potentially helping save costs by working together.
Kevin Hurley, Police and Crime Commissioner for Surrey said:
"This is a big step towards putting victims at the heart of the criminal justice system. Now we are able to scrutinise and manage the support given to victims locally and make sure that they are getting the help they need, when they need it. I look forward to working with Victim Support to make sure that happens.
"This contract is the result of 18 months of hard work by the dedicated staff teams in our offices and all credit must go to them for getting us to this point. They have gone above and beyond to get the best possible service for victims. I am grateful to them for it."
Katy Bourne, Police and Crime Commissioner for Sussex said:
"The launch of this contract has been the culmination of over a year of collaborative work with my fellow PCCs, dedicated to improving the services for victims locally.
"This is the first time that a contractual agreement between Victim Support and collaborating PCCs has been drawn up. The Framework Agreement as a whole will allow for more scrutiny, transparency and performance monitoring.
"The Framework Agreement that is now in place provides the option for other PCCs to adopt and adapt it in order to meet their local requirements, thereby ensuring that victims of crime, irrespective of where they live in England and Wales, will get the best possible service."
Anthony Stansfeld, Police and Crime Commissioner for Thames Valley said:
"I am delighted to announce that Victim Support has been awarded the contract to provide a first point of referral for all victims of crime in Thames Valley, as well as support to those who need on-going assistance in the community.
"This contract is an important step towards providing an integrated set of services for victims in Thames Valley. The experience and knowledge that Victim Support brings, together with their many, much-valued volunteers, will be invaluable to me and to those most harmed by crime."
Mark Castle, Chief Executive of Victim Support, said:
"As a charity that has supported thousands of crime victims in these three counties, we're delighted that the Police and Crime Commissioners have chosen Victim Support to run these quality services on their behalf. With the secured funding we will be able to offer more comprehensive support to people than in the past and working in partnership to deliver excellent value for money.
"We are very proud of what Victim Support has achieved in Surrey, Sussex and the Thames Valley; and of all our staff and trained volunteers who have been delivering high quality services for many years. As a charity we rely on donations from the public as well as contracts like this one."
---
Share on: