SURREY POLICE PRESS RELEASE:
Officers from Spelthorne Safer Neighbourhood Team were out and about talking to Ashford residents about local crime related issues recently following funding for joint problem solving projects being made available by Surrey's Police and Crime Commissioner Kevin Hurley.
A successful bid enabled 300 SelectaDNA property marking packs to be used in an area of north Ashford that has suffered vehicle crime and burglaries. SelectaDNA is a forensic marking system that only shows up under ultraviolet light and has been effectively used elsewhere in the borough as part of other burglary campaigns.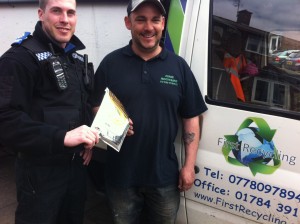 Officers and staff from the Spelthorne Safer Neighbourhood Team and AgeUK knocked on doors on Thursday, 18 and Friday, 19 April in Queen's Walk, Windsor Drive, Sandringham Drive, Tudor Close, Connaught Avenue, Rennie Close, Hengrove Crescent and Avondale Road.
Crime prevention leaflets were delivered to all the residents and the SelectaDNA packs were demonstrated. Property was marked using the packs and details of ownership is being registered.
The deployment of these packs has been shown to significantly reduce theft and burglaries and street signs have also been put up in the area to warn thieves that property is marked and identifiable.
Spelthorne Borough Commander, Inspector Derrick Laing said: "I am committed to reducing crime where particular problems are identified. Working closely with the residents of Spelthorne we can achieve this and we are grateful to the Police and Crime Commissioner for providing the funding to ensure the campaign can be really effective.
"Over the course of the next few weeks other roads in the area will be targeted, where residents will be spoken to and property marked. Please be vigilant and don't forget to remove all valuables from your cars and lock them overnight."
Property marking products and personalised crime prevention information are also available from the Spelthorne Crime Reduction Advisor by telephoning 101 and making a request.
If you wish to take a more active part in your community why not join your Spelthorne Neighbourhood Watch or start a scheme in your road. For further details and to find out if your street is part of a Neighbourhood Watch Scheme, call Linda Kempton on 01784 446420 or visit www.spelthornenhw.info for crime prevention tips.
---
Share on: