The Police and Crime Commissioner (PCC) for Surrey, David Munro was thrilled to speak to service users and staff of the Kent, Surrey and Sussex Community Rehabilitation Company (KSS CRC), seeing first-hand what the service has to offer at a recent Community Payback (CP) project.
KSS CRC delivers a range of rehabilitation services to people who have been sentenced by a court to either custody or community supervision.
During the visit, the PCC spoke to KSS CRC staff and service users about the underlying causes of offending which can be a result of accommodation, employment and health issues and the support available to help individuals break this cycle of reoffending.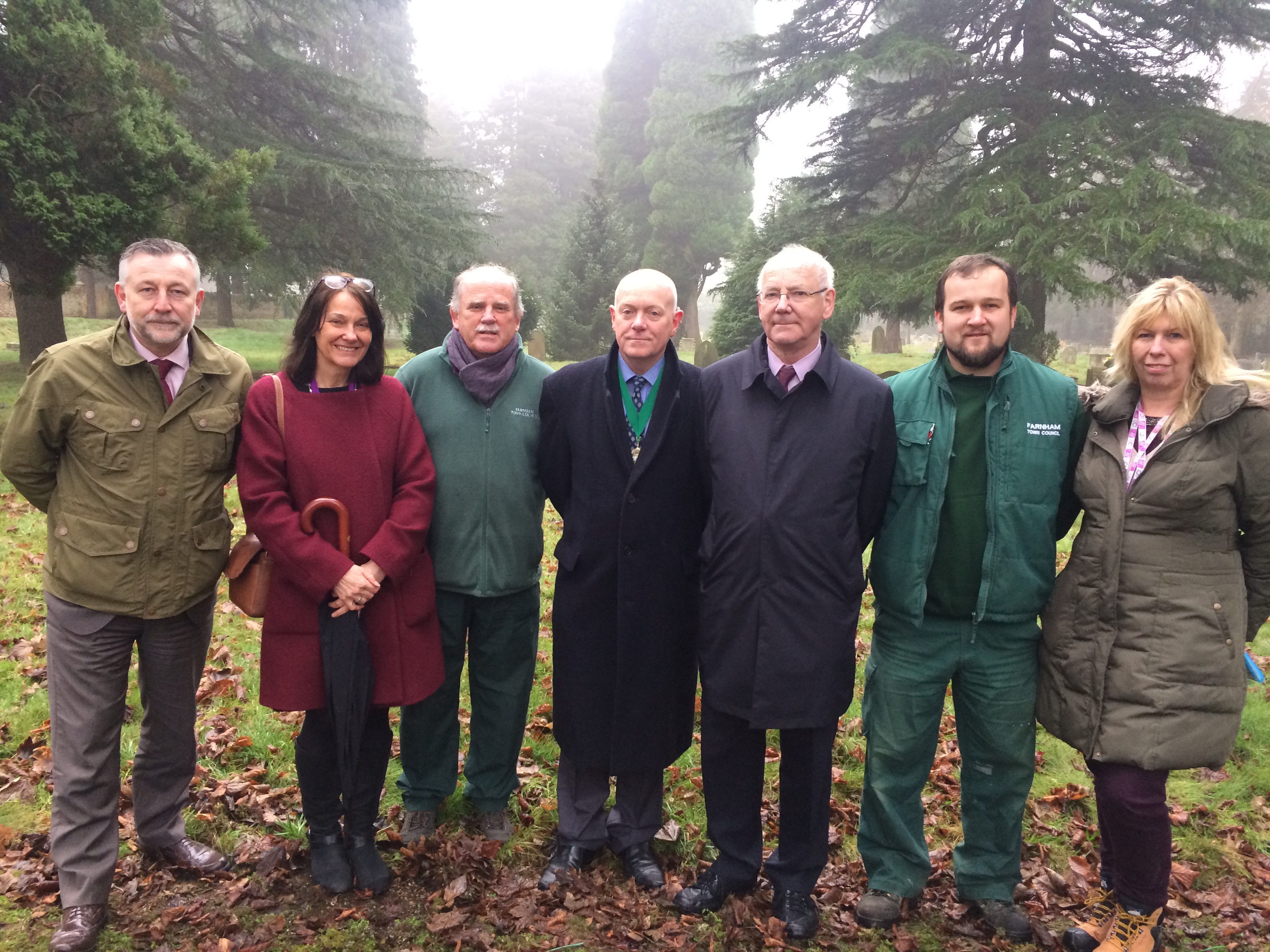 The PCC also took the opportunity to meet some of the service users completing CP at a local cemetery in Farnham. The group, supervised by KSS CRC, were undertaking some conservation work on behalf of Farnham Town Council.
CP, a punishment often given as an alternative to prison, requires offenders to complete between 40-300 hours of unpaid work depending on the severity of the crime committed and the individual's criminal record.
CP has many benefits including its flexibility, allowing service users to complete their CP time alongside current work commitments.
In addition, women-only groups and individual placements are available to allow service users to complete their hours in a positive environment alongside likeminded people who can mentor, motivate and exchange credible expertise encouraging them to learn new skills to support their rehabilitation.
PCC David Munro said: "I am a keen advocate of rehabilitation, not just for the benefit of the offenders but I also believe this scheme, with crucial support from the criminal justice system, is essential in helping to cut crime and reduce the number of future potential victims.
"This type of work can go a huge way towards bettering those who have been in trouble with the law by offering them with an alternative to prison time and improving their integration back into the community. This, in turn allows them to pay their debt to society whilst expanding their potential to seek full time employment following the completion of projects they have been working on.
"Community Payback also goes a long way in benefitting the wider Surrey public as service users often take part in conservation work, retail work, painting and decorating and litter picking amongst other things.
"I was really impressed to see what the individuals taking part in the project where capable of and the professionalism and willing they showed in completing the work they'd been set. This invaluable service offers a means to inspire, educate and integrate those who could otherwise become stuck in a cycle of offending."
Cynthia Allen, Director of Interventions for KSS CRC said: "I am delighted that Mr Munro visited Kent, Surrey and Sussex Community Rehabilitation Company to find out about the excellent work being done to enable individuals to stop reoffending and once again become positive members of our community.
"Mr Munro was keen to understand more about the complex issues and barriers faced by the individuals we work with.
"We are committed to working in partnership to provide the best possible support to address these root causes of offending – because by stopping people from reoffending we are reducing crime in the local community and achieving the best possible result for the individual."
---
Share on: