The Police and Crime Commissioner for Surrey David Munro has published his Annual Report which looks back at his first year in post.
The 2016/17 report details how the PCC has met his statutory responsibilities and the progress made over the last 12 months against the six objectives in his Police and Crime Plan.
It also covers the performance of Surrey Police for 2016/17, including their HMIC (now HMICFRS) Inspections, and sets out how funding has been allocated to commission services through the PCC's Victims and Community Safety Funds.
PCC David Munro said "There have been some real positives during my first year in post and I have been impressed by the dedication, attitude and professionalism shown by the officers and staff I've met who often work in difficult and challenging circumstances.
"I was particularly pleased with the substantial improvements in both protecting vulnerable people and the performance of the non-emergency 101 number. This came at a time when the Force had also implemented a new model of policing called Policing In Your Neighbourhood (PIYN) which is continuing to bed in.
"There is always room for improvement however. The Force has experienced difficulty in the retention of experienced officers which remains a concern while we have seen rises in some crime areas, particularly domestic burglary.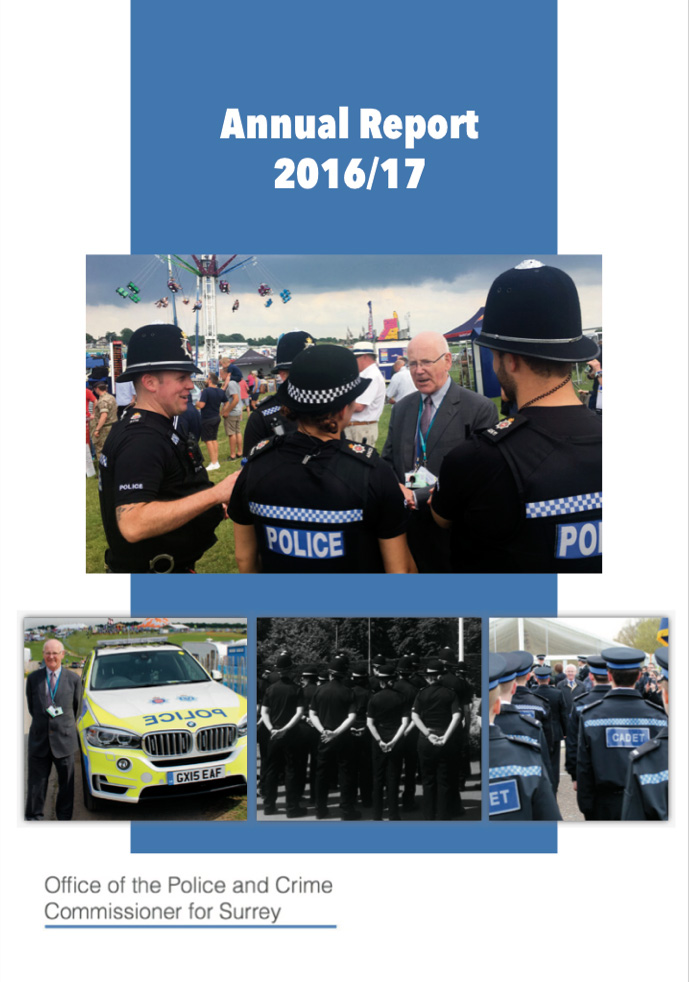 "These are areas the Force are already focusing on in 2016/17 so I am confident we will see progress in the near future. As I say in the report, I know how much this county's residents value their police and I want to make sure going forward we continue to deliver a service the people of Surrey can be proud of."
The 2016/17 Annual Report can be found on the PCC's website here.
---
Share on: