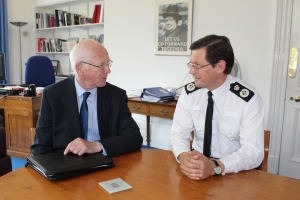 Police and Crime Commissioner, David Munro, has today held the first of his Performance Meetings with the Temporary Chief Constable, Nick Ephgrave.
This first meeting covered Surrey Police's performance, and current and future budget plans. Changes made to Surrey Police's operating model under Policing in Your Neighbourhood were also discussed.
These Performance Meetings will be held on a monthly basis, and are the Commissioner's opportunity to hold the Chief Constable to account for delivering against the Police and Crime Plan.
The Office of the Police and Crime Commissioner are currently consulting with the public on the priorities that will form the backbone of this plan. For more information about the consultation and to take part, please click here.