How often do you get your nails done? Your car washed? Pass a homeless person begging in the street? The chances are we all do these things fairly regularly but do you think about the workers who carry out these tasks or the homeless person who's suddenly gone missing from their usual spot?
People are often shocked when they find out that slavery still exists and even more so when they realise it is happening right here within the leafy streets of Surrey.
As one of the Force priorities, Modern Slavery is growing in importance for Surrey Police. As October 18 is National Anti-Slavery Day it provides the perfect opportunity to remind people that human trafficking and modern slavery are not something that resides in history, unfortunately it is very much alive today.
Signs of modern slavery are often hidden making it difficult to spot victims. It is the most vulnerable in society who are targeted for exploitation in this way. People can be trafficked in from abroad and made to work for little or no money as their trafficker's claim that they now owe them huge amounts of money for travel and accommodation.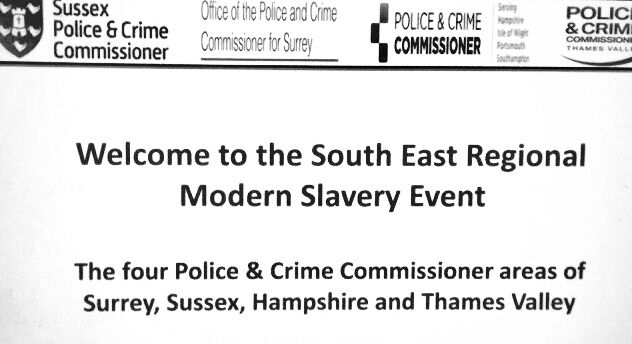 Detective Chief Inspector Mark Chapman said: "People are treated as commodities and exploited for commercial use. This affects men, women, boys and girls. They can all be a subject for exploitation.

"People can be tricked into slavery by accepting the offer of a job or educational opportunities and then find themselves trapped in slavery. Once this has happened they can be traded between criminals and warned of terrible consequences if they try to escape. They are often too scared to contact the police as a result. You also have to keep in mind that often the victims have no concept that they are a victim of slavery. They can consider that the conditions they are being kept in a normal and are reluctant to leave."

Surrey's PCC David Munro said: "People tend to think of slavery as an evil from years gone by but they are mistaken, the illegal exploitation of people is still happening across the UK and we are not exempt here in Surrey.

"Signs of slavery are often hidden making it difficult to recognise victims but it is closer than you think.

"I recently teamed up with my counterparts in Hampshire, Sussex and Thames Valley to deliver a 'first of its kind' conference designed to explore the extent of this problem in our regions and agree strategies going forward to help safeguard victims and bring perpetrators to justice.

"Those people caught up in modern slavery are extremely vulnerable and we all have a responsibility to work together to do everything we can to protect them. Therefore, on this year's National Anti-Slavery Day, I am again calling for police and partner agencies to work together to bring an end to the brutal crime of modern slavery."
If you suspect someone is a victim of modern slavery, please call the Modern Slavery Helpline on 0800 0121 700 or call the Police on 999.
---
Share on: