The Police and Crime Commissioner David Munro has given his personal view on a series of tweets from the Elmbridge Beat Twitter account that have been negatively received by some members of the public:
"The statements made on 8 August on social media by Elmbridge Police on the latest unauthorised encampments were an honest attempt to explain that the police deal with all sections of the community, settled and travelling, fairly and impartially. I support them in this and hope they continue to engage with their residents in this way in future, even though they will sometimes not be able to please everyone."
"I believe however that those particular tweets did not sufficiently emphasise the need to deal with criminality firmly from wherever it originates, and could have given the wrong impression that Surrey Police dealt with alleged crimes associated with unauthorised encampments more leniently. That's certainly the view taken by a number of Surrey residents who have contacted me and the force and I can understand why they think so. I had already raised with senior officers in the force the effect that these tweets could (and did) have, and asked them to ensure that future communications were more carefully worded.
"I believe that Surrey Police, in very difficult and sometimes tense situations, have generally acted reasonably and properly in controlling criminality where there is the evidence available, have worked effectively with local councils and other landowners to use their legal powers to evict unauthorised encampments and are making genuine, and in the main, successful efforts to engage with both settled and travelling communities in the area. They deserve all our support in this challenging task. I will continue to monitor the situation and pass on residents' views to the Chief Constable and his senior officers."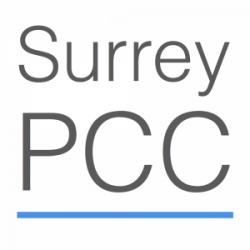 "The events of the last few weeks have demonstrated yet again that the issue of unauthorised encampments has implications far outside policing: the urgent need for transit camps, better intelligence on traveller movements and a renewed attempt to engage with travellers, the large majority of which are law-abiding, still require addressing despite some progress in the last few months, and will remain one of my priorities."
The PCC has spoken with senior police colleagues who are reviewing all alleged crimes that have been reported associated with the encampments, with assurances from Assistant Police Chief Constable Nev Kemp that the force will target any groups involved with criminality, no matter how minor those offences may be and as persistent as they would with any individual or group, regardless of their background.
PCC Munro added: "I fully understand that this is potentially damaging the trust and confidence of the police in those affected, however I have sought further assurances that the force will be as proactive as possible in dealing with criminality and anti-social behaviour."
"I welcome any reports from residents of incidents where things have gone wrong and for them to call Surrey Police directly".
---
Share on: