The Police and Crime Commissioner for Surrey David Munro has published his Annual Report for 2019-20 which looks back at his fourth year in office.
The report reflects on some of the key announcements from the last 12 months and focuses on the progress made by Surrey Police against the six objectives in the PCC's Police and Crime Plan.
It also explores how funding has been allocated to commission services through funds from the PCC's office, including the £500,000 Coronavirus Support Fund established at the start of the pandemic. The report looks ahead to future challenges for policing in the county, including progress towards a brand new headquarters for Surrey Police.
PCC David Munro said: "I'm pleased to say that, after a decade of austerity, we are moving in the right direction. We have made much progress in Surrey Police and in protecting our communities over the last year, but as always there is more to be done.
"I know from your comments what residents most want to see are more police officers and front-line staff. Support for an increase in the police element of council tax as well as government funding has meant an increase in front-line resources and more officers are being recruited this year.
"Surrey residents are very supportive of their local police with 88% of people surveyed saying they have confidence in their local neighbourhood police. I want to build on that and deliver those priorities that you have asked to be addressed. I have also had a supportive relationship with the Police and Crime Panel and wish to thank them for their assistance over the last year.
"Due to the Covid-19 pandemic, my current term of office has been extended by a year. Over the next year I have asked the Chief Constable to particularly focus on three areas that your feedback has told me are important to you. These are: continued recruitment in order to increase police and frontline staffing to ensure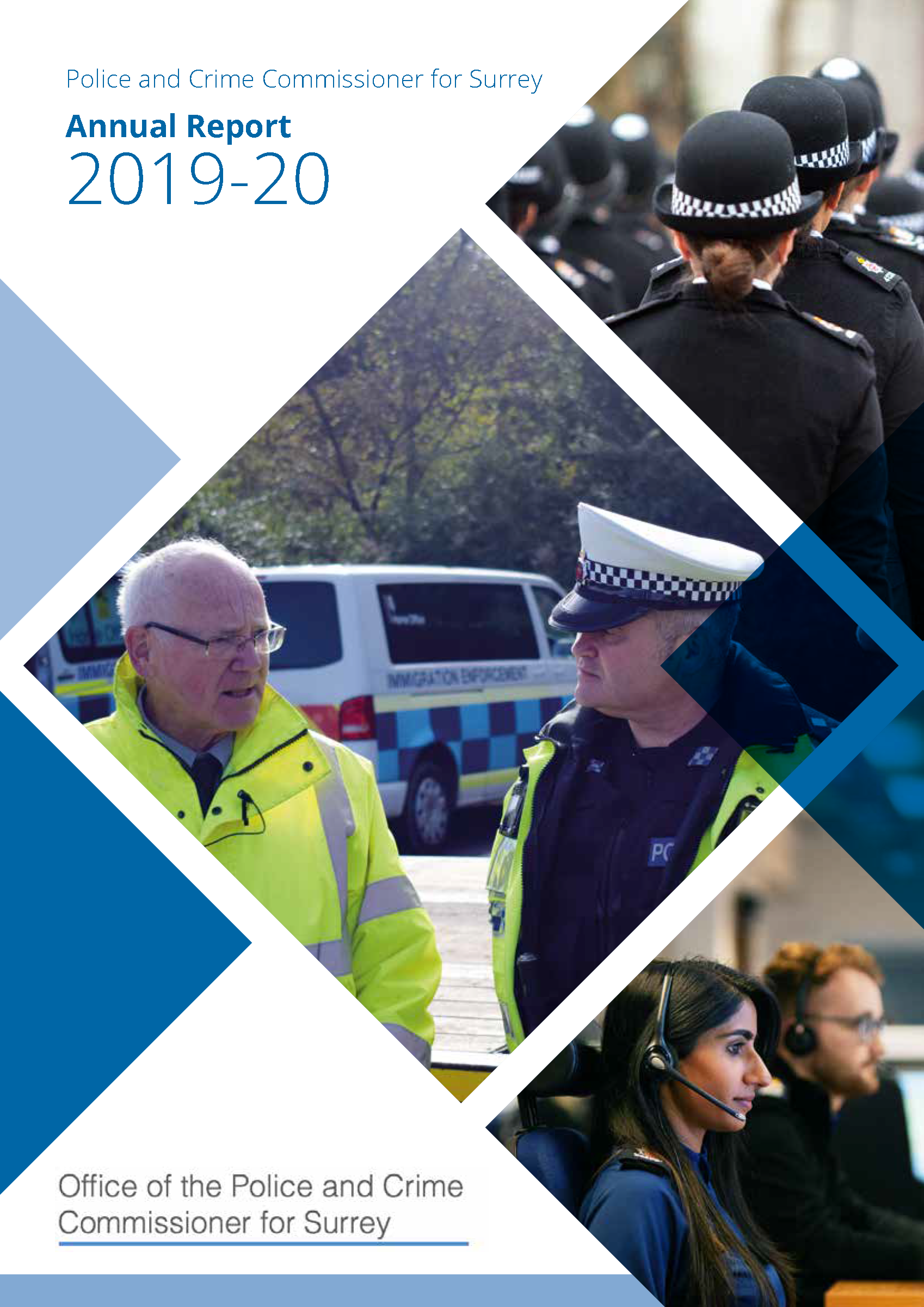 more presence in communities; better crime prevention through providing dedicated neighbourhood officers and preventing fraud and cyber-crime; and solving more crimes.
"Towards the end of this reporting year, policing, like many other public sector organisations, had the challenge of the Covid-19 lockdown. Surrey Police quickly organised their response plans and did a great job in getting the balance right between education and enforcement. I also released £500,000 of grant funding for those organisations working with victims affected by the lockdown – including those suffering domestic abuse.
"I want to thank all of Surrey Police – the officers, staff and volunteers – for their hard work during the year. I also want to thank Surrey residents for getting in touch, and doing their part to keep our county safe. I look forward to working with you all again over the next year in providing a policing service the people of Surrey can continue to be proud of."
---
Share on: