The Police and Crime Commissioner for Surrey David Munro has published his Annual Report for the last financial year which marks the half-way point of his current term of office.
The 2017/18 report focuses on how Surrey Police have performed over the last 12 months and details the progress made against the objectives in the PCC's Police and Crime Plan.
The report also explores how funding has been allocated to commission services through the PCC's Victims and Community Safety Funds and throws a spotlight on the work being supported by his office to reduce reoffending in the county.
PCC David Munro said: "I believe much has been achieved over the last 12 months – the Force has a stable top team under the Chief Constable and we have provided a more secure financial basis for the future.
"I was pleased to see the high levels of confidence and satisfaction people have in Surrey Police being maintained whilst 'good' ratings were also secured across the board in the inspections carried out by Her Majesty's Inspectorate for Police and Fire & Rescue Services (HMICFRS).
"There is always lots of room for improvement of course – we have seen rising crime rates in many areas and although this is following the national trend, it is a particular area we must concentrate on going forward.
"It has proved to be a particularly challenging year for policing nationally with the spectre of terrorism sadly looming large.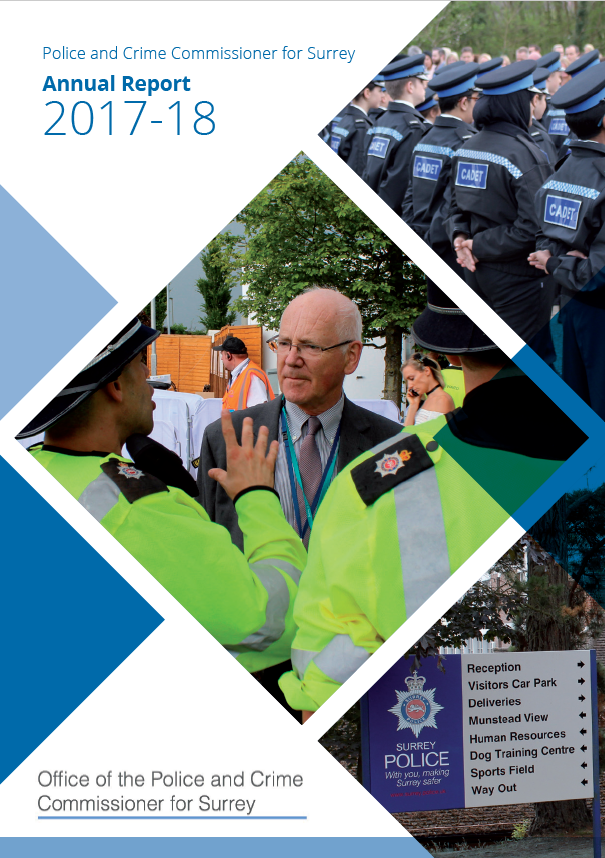 Our police officers and staff face difficult, challenging and often dangerous situations on a daily basis and my thanks go to all those who work for Surrey Police for their professionalism, dedication and achievements over the last year.
"The events of the last year serve as a timely reminder how much we should all value what they do to keep us safe."
The 2017/18 Annual Report can be found on the PCC's website here.
---
Share on: