The Police and Crime Commissioner for Surrey David Munro has praised the dedication of the volunteers who check on the welfare of people in custody in Surrey following an annual event to celebrate their work.
Independent Custody Visitors (ICVs) provide an essential service by giving up their time to visit detainees in Surrey's three custody suites in Guildford, Staines and Salfords to ensure police processes are transparent and open to independent scrutiny.
ICVs come from a variety of backgrounds and sections of the community and there are now 39 volunteers in Surrey. Over the last year they carried out 184 unannounced visits to police custody suites in Surrey, volunteering over 542 hours of their time.
An annual celebration event was held last week in Woking to thank the volunteers and their families for their hard work over the past year.
Guest speakers who addressed the group included Professor Nick Hardwick whose previous roles included the Chair of the Independent Police Complaints Commission and Her Majesty's Chief Inspector of Prisons.
PCC David Munro said: "It was a privilege to host last week's event which was a real celebration of the amazing work our volunteers carry out on a weekly basis to ensure detainees in custody are treated fairly and any issues raised are addressed.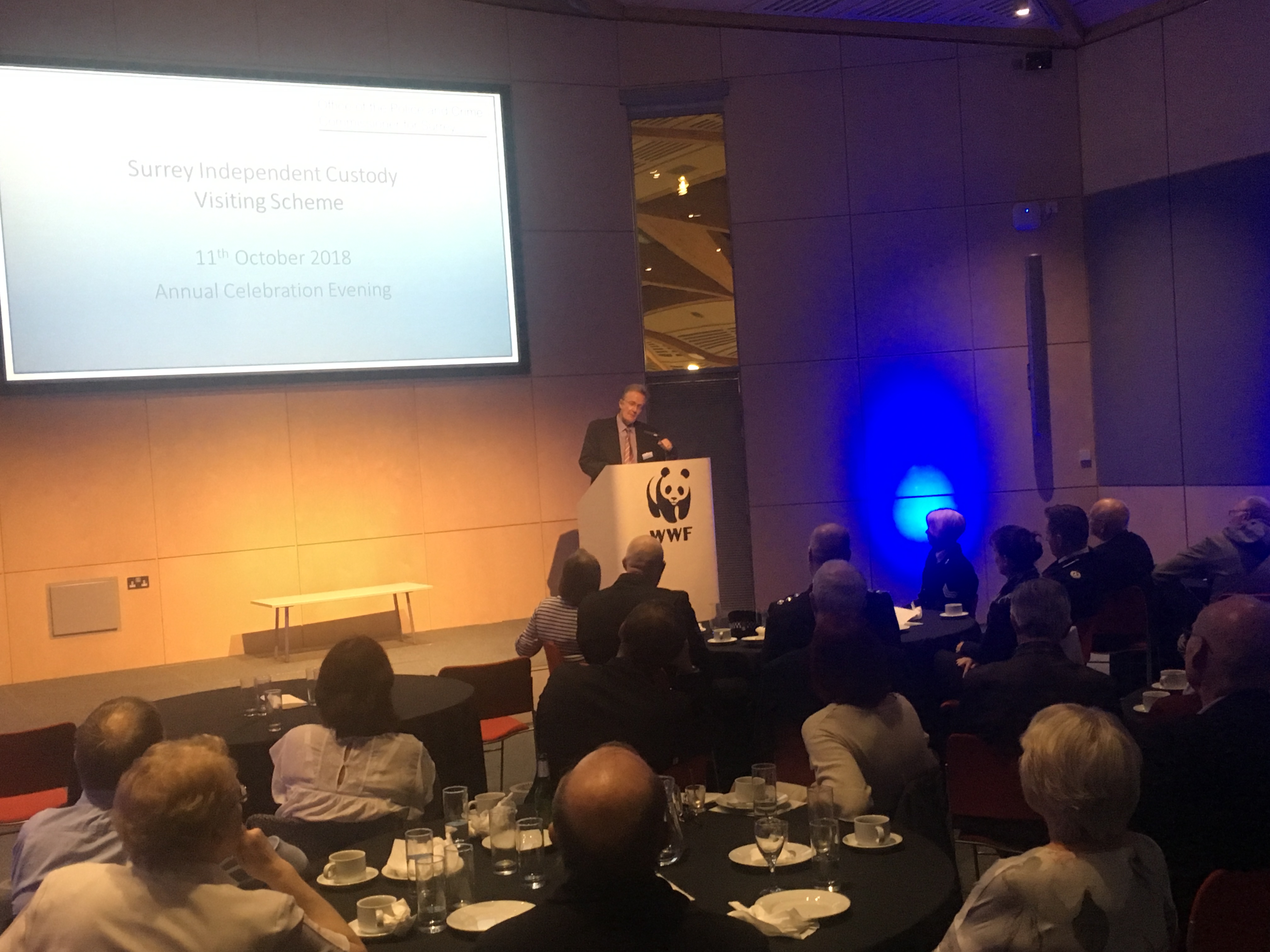 "It is important our local communities have confidence in the way police treat people held in custody and that we maintain the highest standards of care and welfare for detainees.
"The importance of the ICV role in providing that crucial independent scrutiny and ensuring issues are addressed cannot be underestimated. I would personally like to thank all Surrey's Independent Custody Visitors for their continued service in this vital role.
The management and oversight of the ICV Scheme is a statutory responsibility of the Police and Crime Commissioner. Volunteers come from all walks of life and must be over the age of 18 and live, study or work within the Surrey policing borders.
To learn more about the ICV scheme in Surrey visit: https://www.surrey-pcc.gov.uk/independent-custody-visiting/
---
Share on: