A new property offering accommodation and support to help steer people away from a life of crime has been set up in Surrey as part of a drive to reduce reoffending in the county.
The Police and Crime Commissioner's Office has teamed up with Your Ambition, a charity associated to the Kent, Surrey and Sussex Community Rehabilitation Company (KSS CRC) part of the Seetec Group, to provide funding for four beds in this house located in the Waverley area, which they recently visited.
The property is run by Transform Housing & Support who has been providing services for ex-offenders in Surrey for nearly 50 years.
The opening of the new property means Transform has a total of 33 bed-spaces in nine shared properties across the county around Redhill, Merstham, Leatherhead, Dorking and Farnham. PCC and KSS CRC now provides funding for a total of eight of those spaces.
The accommodation is a fully furnished shared house with up to four people sharing. All clients have private bedrooms and have access to a communal kitchen, lounge and bathroom as well as laundry facilities.
Potential clients must have a history of offending or be considered to be at risk of offending and demonstrate a desire to change and address their offending behaviour.
The objective is to provide a secure environment in which clients are supported to recognise the triggers behind their previous offending, to take responsibility and make changes to reduce the likelihood of it reoccurring in future.
Between 30 to 40 Surrey residents are released from prison back into society every month and around one in five of those have no permanent place to live. This increases to one in two people in terms of prolific offenders who often have complex needs created by issues such as drug and alcohol addiction and mental health issues.
Around £250,000 was set aside from the PCC's Community Safety Fund over the last year to finance projects aimed at reducing reoffending across the county.
PCC David Munro said: "The biggest single problem facing those released from prison is a lack of accommodation; this can significantly reduce the chances of individuals avoiding the path back to reoffending and making a fresh start.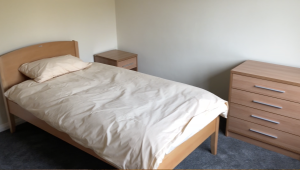 ---
"Reducing re-offending in Surrey is a really important focus for my office and this is exactly the kind of scheme that can support those who may have recently been through the criminal justice system and are trying to get their lives back on track.
"I believe if it can help stop them drifting back into crime, then the communities in which they live will also benefit."
John Baumback, Seetec Group Managing Director, said: "This is a fantastic example of working collaboratively to stop reoffending. We know from our experience that if you can break that cycle lives can be transformed. We are delighted to be able to support such an important project in the community."
Cynthia Allen, KSS CRC's Deputy Chief Probation Officer, said: "We are pleased to be working with the Police and Crime Commissioner and Your Ambition to fund these extra bed spaces at Transform Housing & Support. Providing this level of stability and support to our service users in the county means we can address an individual's behaviour and help them overcome issues that led to their offending in the first place, such as drug misuse, which was echoed by the clients we spoke with."
Lawrence Santcross, Chief Executive at Transform said: "At Transform Housing & Support we remain passionate about giving people the chance to re-build their lives away from crime. We know in order to do this people need secure and safe accommodation, support and time to think and make changes to their lives to reduce the risk of re-offending. We also know that to successfully make and sustain change people need a network of support.
"We are delighted that the OPCC, KSSCRC, SEETEC and Your Ambition wish to work together with Transform to support the people we house and took the time to visit our projects. We are also very grateful to clients who agreed to meet with our visitors and who told their stories so powerfully. Since 2006 we have supported 185 clients to move on positively from our accommodation for people with a history of offending. The additional funding enables us to support more people."
To learn more about the work Transform are doing in Surrey – visit their website here: www.transformhousing.org.uk
To find out how KSS CRC is helping to reduce reoffending in the South-East click here: www.ksscrc.co.uk
---
Share on: