The Police and Crime Commissioner for Surrey David Munro has called on the government to help protect local police services saying resources taken away from county forces could pose a danger to neighbourhood policing in areas like Surrey.
The PCC said forces, including Surrey Police, were "running at their limit" and any extra strain on budgets resulting from the need to provide additional funding for national programmes such as counter terrorism would hit local policing hard.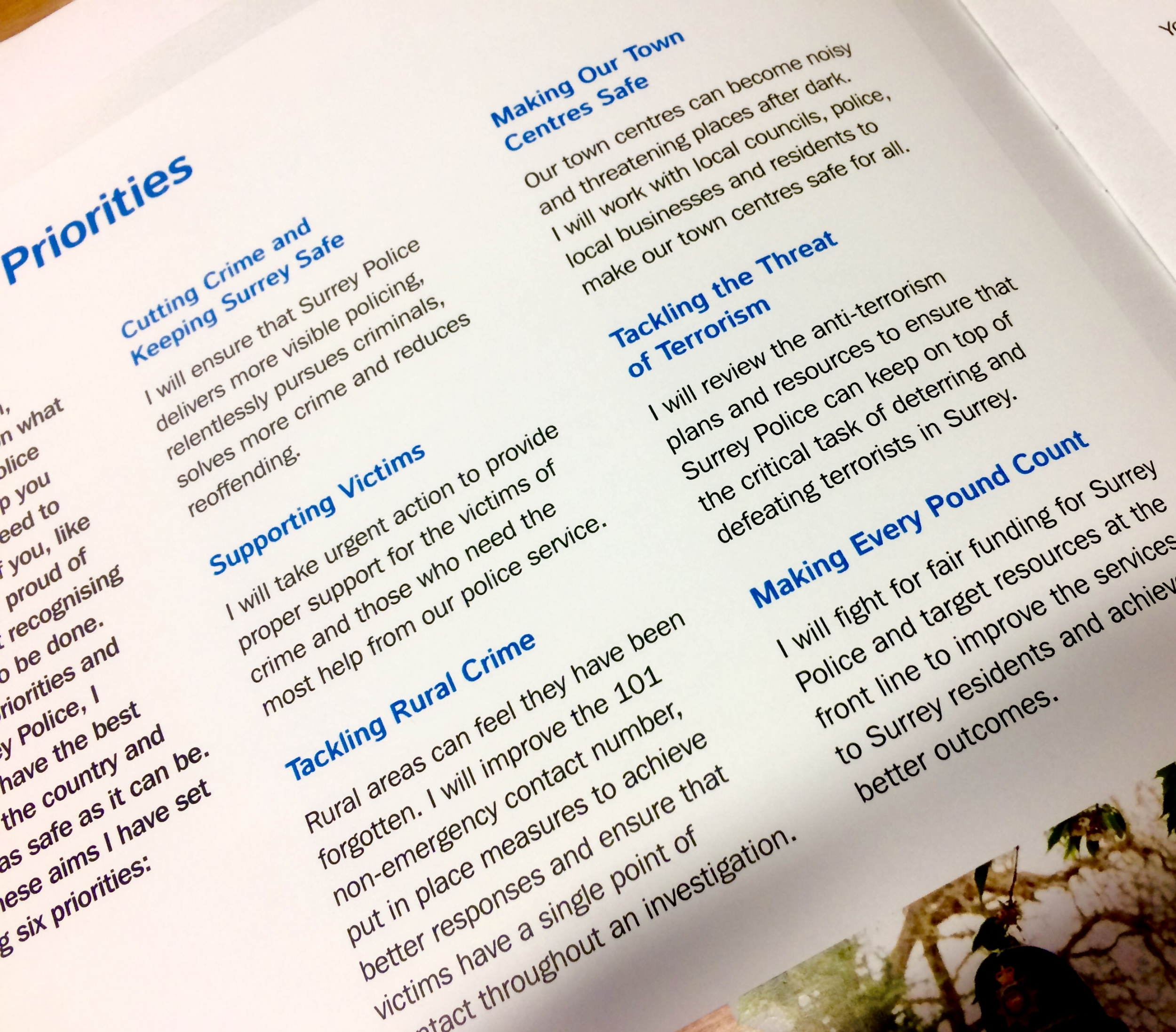 He has set out his concerns to the Association of Police and Crime Commissioners (APCC) who are collating evidence from PCC offices across the country on the current demand in their forces for a submission to the Joint Spending Review.
He highlighted that previously when demand was increasing in areas such as domestic abuse, child sexual exploitation, historic sexual offences and online crime – acquisitive crime was showing a reducing trend.
However, in recent months offences such as burglary and vehicle crime have increased meaning Surrey Police has had to focus on improving performance in those areas whilst maintaining momentum on public protection work.
This is in addition to also servicing other areas of high demand on local resources such as missing people, repeat anti-social behaviour and dealing with people with mental health issues.
PCC David Munro said: "Local forces are currently coping but they are running at the limit of their capabilities and we are no different here in Surrey.
"I am concerned that any further squeezes to our budget will affect the level of service we can provide to our residents, particularly in neighbourhood policing.
"The government needs to take heed of the pressures police forces are facing at the moment. The shift in demand that forces have faced in recent years in tackling modern policing issues such as cybercrime and child sexual exploitation has been well documented. But recently here in Surrey we have also seen increases in more traditional crimes such as burglary and vehicle crime.
"The Chief Constable is doing the best he can to balance the response to those demands but there are often difficult choices that need to be made. That is why I would be very wary of any increased top-slicing from police budgets to fund national programmes such as counter terrorism.
"Of course tackling the threat of terrorism is an absolute priority, particularly in light of the awful recent attacks we have witnessed. But that needs to complement our policing efforts and not be at the expense of local policing."
The PCC said that Surrey Police are continuing to make savings but if the planned review of the funding formula goes ahead then he wanted to examine it carefully to make sure it doesn't disadvantage Surrey.
---
Share on: