The Police and Crime Commissioner for Surrey David Munro has called for all communities to work together to defeat terrorism after joining faith leaders at a peace vigil in Woking last night.
The PCC attended the Shah Jahan Mosque for the event which was organised by the Surrey Muslim Association and led by Imam Hafiz Hashmi who said prayers for the victims of the recent terror attacks.
The Bishop of Guildford Rt Revd Andrew Watson, the Mayor of Woking Councillor Graham Cundy, Chief Executive of Woking Borough Council Ray Morgan and representatives from Surrey Police also joined the vigil in solidarity.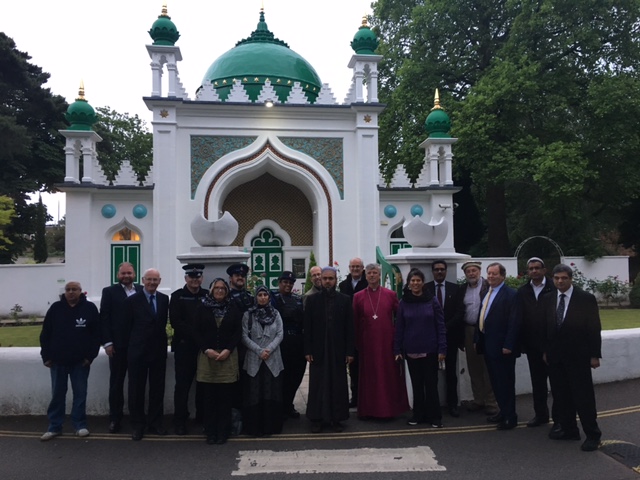 PCC David Munro said: "Like everyone I have been appalled at the recent attacks in Westminster, Manchester and London Bridge and my deepest sympathies are with the victims, their loved ones and all those affected.
"Last night's event in Woking was a fantastic show of unity from the local community. I would urge all communities in Surrey to stand together in the face of these recent terrorist outrages which seek to divide us and create disharmony.
"I would like to echo the message from the Surrey Muslim Association that there is no religious justification in the taking of innocent lives and those who perpetrate these evil acts do not represent the true Muslim communities in Britain.
"Tackling the threat of terrorism is one of the key priorities in my Police and Crime Plan and security measures in Surrey are under constant review to reflect the level of threat we are facing.
"There are well rehearsed plans in place to deal with potential incidents but of course we can never be complacent. All communities must work together to root out radicalisation and defeat terrorism and extremism in all its forms.
"I would ask the public to remain vigilant and report any suspicious activity but ultimately everyone must continue their daily lives and carry on as normal.
"If you see anything that causes you concern – please don't hesitate to report it to the authorities. If you have concerns that someone you know is being radicalised, report this to the Anti-Terrorist Hotline on 0800 789321 or 999 in an emergency."
---
Share on: