The Police and Crime Commissioner for Surrey David Munro and Chief Constable Nick Ephgrave pledged their support for our servicemen and women by yesterday signing the Armed Forces Covenant.
The covenant recognises the sacrifice made by those who have served past and present and sets out the commitment to promote both the Office of the Surrey PCC and Surrey Police as armed forces-friendly organisations.
The PCC and the Chief Constable became the first police representatives in the South-East and amongst the first in the country to sign up to the Covenant during an event at Mount Browne HQ.
They signed separate declarations in which they both vow to do all they can to help meet the needs of all servicemen and women and their families by treating them with fairness and respect.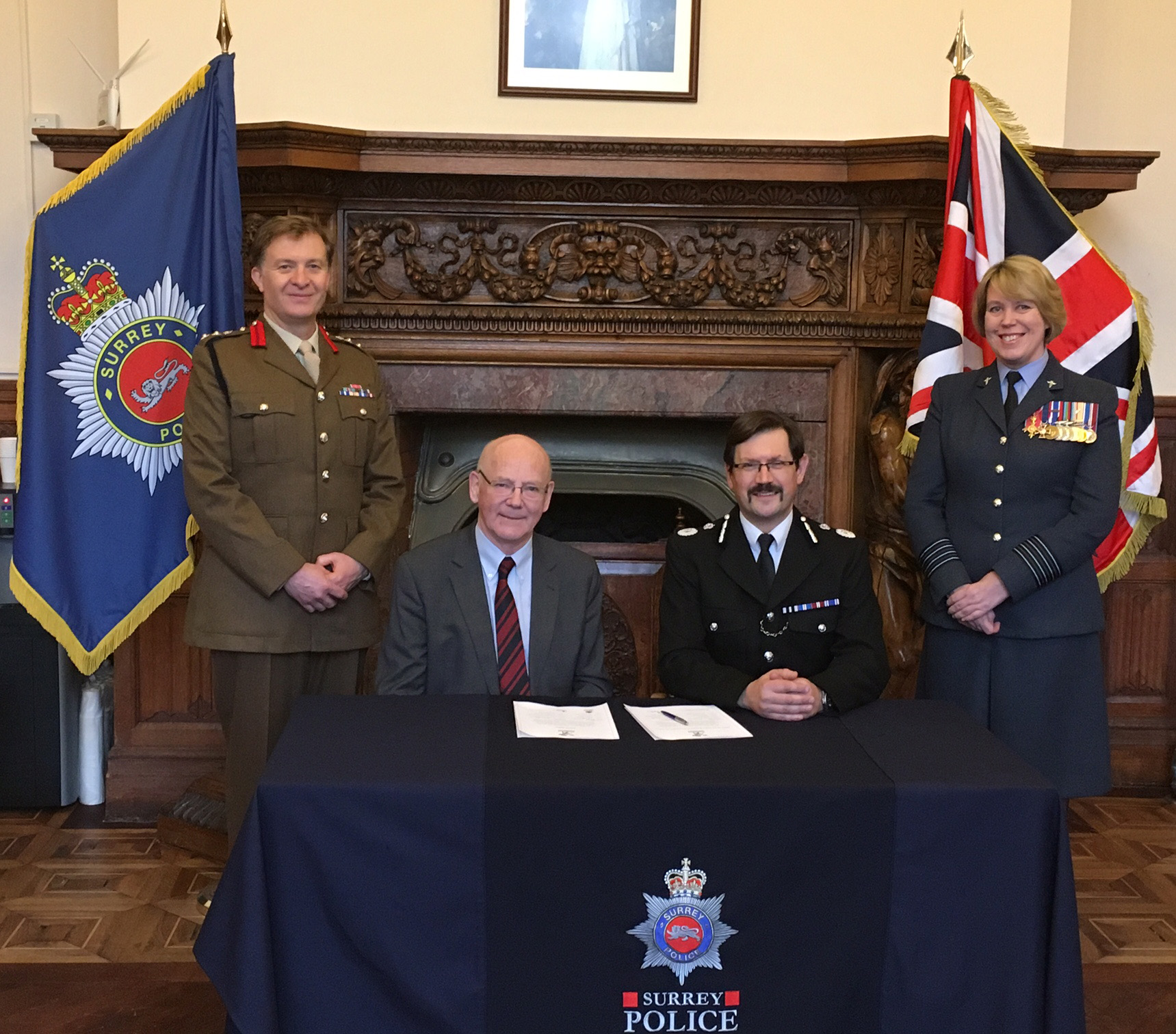 This includes supporting the employment of both veterans or their partners and any employees who serve with the Reserve forces by accommodating their training and deployment where possible.
The covenants also pledge to support local cadet units through the Cadet Expansion Scheme and to aim to actively participate in Armed Forces Day.
The covenant signings were overseen by Colonel Andrew Barr, the Deputy Commander of 11 Infantry Brigade and Group Captain Teresa Griffiths, the Commanding Officer of Headley Court. The event was also attended by Canon Peter Bruinvels, the Civilian Military Liaison Advisor and Sarah Goodman from the Surrey Civilian-Military Partnership Board.
The two covenants can be viewed in full here:
David Munro Armed Forces Covenant Signing
Nick Ephgrave Armed Forces Covenant Signing
PCC David Munro said: "The contribution to our society made by servicemen and women, both past and present, should never be forgotten and they deserve all the support we can offer them.
"As a former member of the armed forces myself, I am very proud to sign the covenant with the Chief Constable which demonstrates our commitment to ensuring those who have served their country are treated fairly.
"Many veterans chose to join the police service as officers or staff after leaving the armed forces and I want to continue to embrace that in Surrey. Equally, some veterans can struggle to readjust to civilian life – we must also seek to support those people wherever possible.
"The link between the armed forces and the police service is already well established in our county and I hope the signing of this covenant strengthens those bonds even further."
Chief Constable Nick Ephgrave said: "I'm proud to be signing the Armed Forces Covenant on behalf of Surrey Police, cementing our commitment to ensuring fair and empathetic treatment of current and former military personnel and their families.
"Surrey has a long association with the armed forces with a significant military presence in the county and on our borders which makes the need to understand the unique demands placed on our armed forces all the more relevant.
"As well as employing many former military personnel both as staff and officers, we have a number current reservist members of all three armed services. We recognise they bring a diverse range of skills and abilities to the force and we will do all we can to support their training and deployments when required."
If you'd like more information about the Armed Forces Covenant – click here: https://www.armedforcescovenant.gov.uk/
---
Share on: