Police and Crime Commissioner David Munro's proposal for a 1.99% council tax increase for policing has today been approved by Surrey's Police and Crime Panel.
The policing element of the council tax for the financial year 2017/18 has now been set at £224.57 for a Band D property which amounts to an extra £4.38 on last year's figure, or 8p a week.
The increase, which will come into effect from April, was unanimously supported by the Panel at a meeting today at County Hall in Kingston-upon-Thames.
A public consultation was carried out between November and January in which over 2,100 people answered a survey with their views on the proposed rise in precept for policing. Of those who responded, 65% were in support of the increase.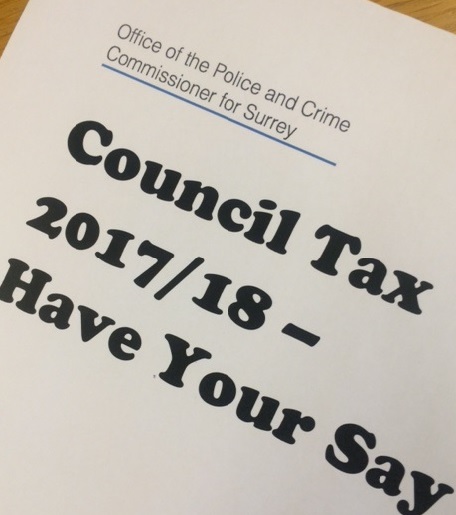 PCC David Munro said: "As the elected representative for the people of Surrey, I want to ensure that taxpayers pay no more than is absolutely necessary for an effective policing service.
"However, I also have to strike a balance with giving Surrey Police the sufficient resources to keep the county's residents safe. Asking the public for more money is never an easy option and I can assure you I have not taken this decision lightly.
"The changing nature of crime has meant that the policing environment today is more complex than ever before and we must train and equip our officers sufficiently to meet those challenges.
"I believe this rise will help put the Force in a stronger position to continue supporting the objectives of my Police and Crime Plan, pursuing offenders, protecting the vulnerable and preventing crime and disorder.
"Setting the policing element of the council tax is one of the Police and Crime Commissioner's key responsibilities so I would like to thank all those members of the public who filled in the survey and gave us their views.
"The majority of people who responded agreed with the increase and this helped inform my decision which I am pleased has now been endorsed by the Police and Crime Panel.
"There are always areas to work on and the feedback we received during the consultation highlighted areas around police visibility and engagement which we have taken on board and will seek to work with Surrey Police to improve.
"I want to ensure we make our communities as safe as possible and continue to provide a police service the people of Surrey can be proud of."
---
Share on: