The first ever Cybercrime Profile for Surrey which has built a picture of the nature and scale of online criminality in the county has been published by the Office of the Police and Crime Commissioner (OPCC).
Wide ranging research and data has been drawn together to produce a comprehensive information tool which can be downloaded and used by organisations and the public.
The aim is to give agencies, businesses and residents a better understanding of the cybercrime threats and risks faced in Surrey so better responses and plans can be developed.
The profile takes a detailed look at the nature of cybercrime in the county in relation to both children and young people and older adults and also features sections on reporting, preventative measures and perpetrators.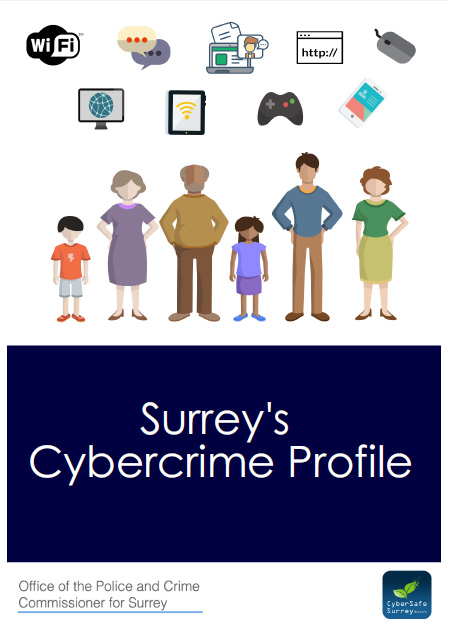 The research shows that in 2015 Surrey had the third highest rate of web users in the UK with the majority of people in the county spending an average of one to three hours online every day. Police forces across the country have seen a sharp rise in reports of crimes committed online and in Surrey that figure rose by 185% between 2014 and 2015.
The OPCC set out to bring together research from academia, industry, government sources and the recent Regional Cybercrime Survey. The resulting profile has been produced as part of the ongoing CyberSafe Surrey project which is funded and run by the OPCC to support professionals and practitioners in protecting our communities against cybercrime.
Police and Crime Commissioner for Surrey David Munro said: "Whilst the criminal perpetrating the offence often remains unseen, the lasting and often devastating effect on people ºs lives can sadly be all too apparent.
"We know that around 80% of fraud and cybercrime is preventable, so it ºs crucial that our local residents and businesses know how to protect themselves online.
"This profile is the first ever attempt to bring information about cybercrime in Surrey into one place and I hope it provides a solid foundation on which to build local response and action plans to help protect residents from this ever evolving area of crime."
The cybercrime profile can be downloaded here:
https://cybersafesurrey.org/network/index.php?resources/cybercrime-profile-for-surrey.146/
---
Share on: