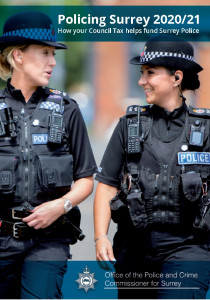 This page contains answers to questions about the approved Council Tax increase for 2020/21. The increase of 3.8% represents an increase of £10 a year on an average Band D property. Download the leaflet, 'Policing Surrey 2020/21: How your Council Tax helps fund Surrey Police'.
Q) How much money is received from the government?
In 2019/20 the Home Office Grant was £103.2m. The police settlement for 2020/1 has been announced and will include £112.3m in the Home Office Grant for Surrey.
Q) Why did you consult with the public before you knew what the government settlement would be?
This year, budget planning is more difficult due to the government's settlement announcement, which outlines both the amount of grant and maximum level PCCs can raise through the precept, being delayed because of the general election.
The settlement is normally announced in December but was not announced until 22 January. The proposed budget, including the PCC's recommended precept, needed to be finalised and presented to the Surrey Police and Crime Panel on 7th February leaving too little time for consultation with the public.
Q) How many extra officers and staff can you recruit for the additional 3.8% precept increase? What will they do?*
A 3.8% increase in police council tax would allow us to add to the Government's funding for an extra 78 officers.  Exact numbers would depend on the actual grant settlement given to us by Government.  But the council tax increase would be used to increase local Neighbourhood Support Officers (NSOs) and Police Community Support Officers (PCSOs). These would be officers based in our local communities, something Surrey residents have been asking for. In particular we would like the PCSOs to focus on working with young people and improve police and youth engagement.
Investigation Support Staff:
Specialist investigations can be time-consuming, detailed and require specialist skills.  Whilst all our officers are trained to carry out investigations, the additional demands of specialist and complex investigations can take frontline officers away from communities whilst they follow-up lines of enquiry. By employing police staff in specialist investigation roles we can help keep police more visible, something Surrey residents want to see. We can also employ trained staff into very specialist areas, without them requiring further training as general police officer roles.  The Chief Constable would welcome more specialist investigative staff particularly in the investigation and support for victims in abuse cases which require particular training and skills.  This includes child abuse, domestic abuse and sexual abuse.  The Chief Constable would also like to have police staff  to investigate crimes such as fraud, burglary and vehicle crime. Through this investment we hope to improve the crime solving rate.
Support staff analysts:
We have vast amounts of data in today's policing world but we aren't yet making the best use of the information available. During austerity and police cuts we have struggled to keep pace with technology and fully exploit available intelligence to direct police work. By employing a small number of demand analysts we can better direct our police resources to prevent crime happening in your areas. A small number of digital forensic staff would greatly enhance Surrey Police's ability to extract information on computers or phones and assist with catching criminals. In addition, preparing cases to get to court in today's technological age is increasingly complex. A small number of criminal justice specialists would assist officers in preparing the best case and would help us gain more convictions.
Q) Why do you want to increase staff not just officers?
The Government focus has been to give us extra police officers – something we very much welcome. They are also providing extra funding for their recruitment, training, cars, IT equipment and uniforms. But what they aren't providing are the specialist skills required to support more officers and meet increased public demand.
We have two broad groups of police staff that are crucial to the running of Surrey Police.  The first are those that work in roles such as human resources, IT, finance and communications.  These support roles ensure that Surrey Police staff are recruited, staff well-being is looked after, people are paid, everyone has the right technology to do their job and we can communicate what is happening to the Surrey public. We don't plan to increase any of these staff and always aim to work efficiently as possible in these areas.  The second group are front-line staff, working on investigating cases, supporting victims of crime, working in our contact centre, carrying out crime analysis or forensic work etc. As our police officer numbers grow, Surrey Police will require more of these staff to effectively and efficiently police the county.
Q) Are the 78 officers provided by central government all police officers or staff as well?
We are awaiting the full details from the government; but the extra 78 will be police officers.
Q) How much money is Surrey Police saving?
Last year (2019/20) Surrey Police met its savings target of £3.3m. The savings target for 2020/21 is £3m
Q) How much did the precept raise last year?
Last year the Council Tax precept rose by £130.5m
Q) How much will the different bands pay depending on the PCC's final decision?
Please see our Council Tax leaflet here.
---
Q) How much does the Office of the Police and Crime Commissioner cost?
The overall budget for the OPCC is around £3.5m. This includes a Ministry of Justice grant for £1.4m which makes up the PCC's Victims Fund. The remaining £2.1m covers all staff and office running costs, audit costs and other projects funded by the PCC – including the Community Safety Fund which totals £765,000.
Q) How much does the PCC get paid?
The salaries of Police and Crime Commissioners are decided on a national basis and vary depending on the size of the force area they represent. The Surrey PCC receives a salary of £71,400
Q) Would any proposed rise in council tax go towards paying for the Surrey Police HQ move?
The new site in Leatherhead was purchased in March 2019 for a cost of £20.5m. The future sale of five police sites across the county will fund a significant proportion of the cost of buying and developing the new base. In the long term the new site will make savings from being modern and efficient. For more details click here.
Q) What is the current Surrey Police officer establishment?
The police officer establishment for 2019/20 is 1,917.
Q) How many police officers do you expect to recruit in total over the next year?
This would depend on how many officers retire or leave the organisation. Surrey Police will plan to recruit to fill posts that become vacant in addition to the new 78 posts funded by central government and any others made possible by the precept.
Q) How much has Surrey Police got in reserves? Can that not be used to fund local policing?
Over recent years Surrey Police has reduced its reserves to one of the lowest levels of any police force in the country. The general reserves strategy for the OPCC is to maintain a balance that does not fall below 3% of the budget.
Click here for more information and to read our latest reserves strategy.