Police and Crime Commissioner David Munro is asking for the views of Surrey residents to help him decide on the policing element of the council tax for the next financial year.
The PCC is inviting people across the county to fill in a short online survey on whether or not they would support a proposed 1.99% increase as he launches his annual budget consultation.
The survey will help inform the budget proposals for 2017/18 which will be presented to Surrey's Police and Crime Panel early next year and can be accessed here: https://www.surveymonkey.co.uk/r/PoliceFunding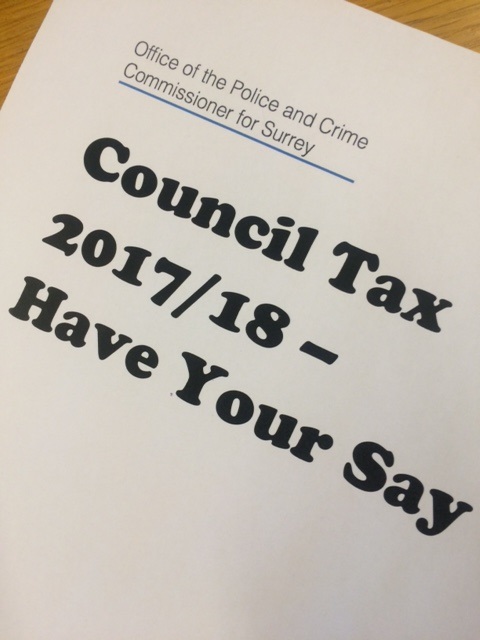 One of the PCC's key responsibilities is to set the overall budget for Surrey Police including determining the level of council tax raised for policing in the county.
Currently, the annual cost of policing for a Surrey household in a 'Band D' property is £220.19. The proposed rise would bring that up to around £224.50 – an increase of £4.31. This equates to an extra 8p a week and would help Surrey Police protect frontline policing and deliver against the PCC's Police and Crime Plan priorities:
Cutting Crime and Keeping Surrey Safe
Supporting Victims
Tackling Rural Crime
Making Our Town Centres Safe
Tackling the Threat of Terrorism
Making Every Pound Count
PCC David Munro said: "One of my key responsibilities as the elected Police and Crime Commissioner is to set the policing element of the council tax in Surrey and it is important for me to hear the views of our residents who will be paying it.
"I want to ensure we make our communities as safe as possible and continue to provide a police service the people of Surrey can be proud of.
"Whilst some more traditional crimes are reducing, Surrey Police has changed its policing model over the last year to combat significant increases in reports of crimes such as rape, domestic abuse, cybercrime and complex abuse cases.
"At the same time the Force has had to deliver significant savings but there is still further to find. I believe this proposed small increase will enable Surrey Police to concentrate on tackling those areas of crime that are effecting the most vulnerable in our communities whilst providing that balance with the reassuring visible street policing that people have told me is important to them.
"I know how much this county's residents value a good policing service so I would ask everyone to take a minute to fill out this brief survey and let me know their views which can help me make my decision."
---
Share on: