For the 50th anniversary of the partial decriminalisation of homosexuality (27th July 2017), David Munro, the APCC Portfolio Lead on Equality, Diversity & Human Rights and the Police and Crime Commissioner for Surrey, talks about progress that has been made in policing and in wider society on LGBT+ equality: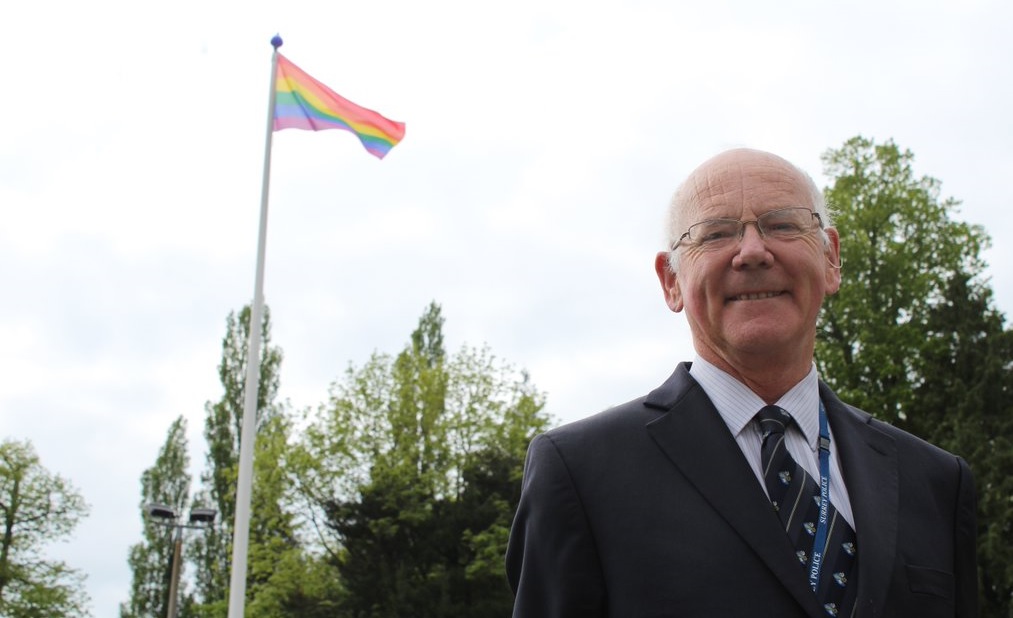 The 27th July 2017 marks the 50th anniversary of the partial decriminalisation of homosexuality in England and Wales; an important milestone in the Lesbian, Gay, Bisexual & Transgender (LGBT+) movement.
It's hard to imagine that there was once a time where people would be criminalised for having a same-sex relationship. Thankfully, times have changed and society today has become more open in terms of understanding and accepting the LGBT+ community.
As the national Association of Police & Crime Commissioners' Lead for Equalities, Diversity and Human Rights, this is a topic very close to my heart and I am a great supporter of celebrating our differences.
In 1967, the Sexual Offences Act was created, partially decriminalising homosexual acts in private over the age of 21. This started the movement of legal recognition and acceptance towards homosexuality in the UK.
More recent pushes for greater equality have continued through the 1990s and early 2000s with government making significant changes in the law including lifting the ban on gay servicemen and women in the Armed Forces and lowering the age of consent to 16.
Following this, there's been a sea change in legislation. Policy makers have gone from criminalising homosexuality to criminalising homophobia with 2005 seeing the courts pass tougher sentences for offences motivated by the victim's sexual orientation.
Meanwhile, following laws allowing civil partnerships being passed in 2004, and adoptions by same-sex couples being allowed the following year, in 2013 same-sex couples were given full marriage equality in England and Wales.
This is a true reflection of progress in both public attitudes and the criminal justice system moving from judging and potentially criminalising people for being simply who they are, to rightly bringing those who discriminate against them to justice.
Changing hearts and minds amongst the police service has also had its challenges. This was driven by the establishment of organisations such as the Gay Police Association in 1990 to promote equal opportunities for gay and bisexual men and women in the police service, as well as to improve relations between the police service and the wider LGBT+ community.
The Gay Police Association was replaced in 2015 by the National LGBT Police Network, which provides a collective voice for local LGBT+ police groups and associations from across England, Wales, Northern Ireland and the Channel Islands.
I am aware that despite progress made, prejudicial behaviour towards these communities still exists. In particular, due to traditional, cultural and religious differences, many challenges remain for LGBT+ members of black and minority ethnic (BME) groups.
Additionally, some members of the transgender community have told me that they too can often feel discriminated against in comparison to people who identify as lesbian, gay or bisexual. So, undoubtedly there is still some way to go.
Policing therefore has a key part to play in both reducing hate crimes which are currently under-reported and doing more to encourage victims to feel safe to come forward. I am confident over time – along with initiatives being led by some of my PCC colleagues, continued changes in the law and improved public understanding – acceptance of LGBT+ communities is set to continue.
I am also passionate about encouraging people from the LGBT+ community to pursue a career in policing. In order to achieve this we must work at presenting a clear demonstration of our commitment to inclusivity within the police service.
I was pleased to see 18 police forces recognised in the Stonewall Workplace Equality Index 2017 – with six making it into the top 100. This index looks at LGBT+ representation across the workplace and recognises those organisations demonstrating inclusivity. I am keen that those forces included share best practice, and would love to see even more make it into the Index next year.
---
Share on: