The Police and Crime Commissioner for Surrey, David Munro, has today voiced his support for a police crackdown on targeting those using mobile phones at the wheel.
Surrey Police, as part of a National Police Chiefs' Council (NPCC) led campaign, are this week, taking part in an enforcement operation which will include having extra designated patrol cars across the county and working with partner agencies to bring offenders to justice in addition to educating motorists on the consequences of using a phone when driving.
A recent report conducted by the RAC, has seen a significant national rise (31%) of people admitting to using a mobile phone while driving. Tougher penalties brought in by new government legislation, due in 2017, are expected to tackle this issue by doubling fines & points of people who are caught using a phone at the wheel.
The OPCC and Surrey Police also want to educate road users on the consequences of these actions which can include banning the driver from the road or issuing the driver with a jail sentence.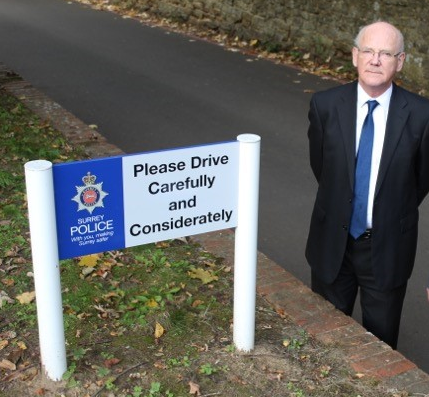 PCC David Munro said: "This is something that none of us should take lightly and it is imperative that motorists understand that they will be prosecuted if caught using a phone at the wheel.
"Of course using a phone could result in a fine, but what about the worst case scenario? Using a mobile at the wheel endangers yourself and others and that momentary lapse in judgement or concentration can have fatal consequences as we have sadly seen in a number of recent cases.
"Too many drivers, including here in Surrey, have become complacent and this is having a serious effect on the safety of all road users across the county.
"I want it to become commonly recognised that being distracted by a mobile phone whilst driving is socially unacceptable and can be as dangerous as drink-driving.
"Too often drivers gamble with their own and others safety and something must be done to change this behaviour – if you need to use your phone whilst driving, pull over."
For more information on the week's operation, please visit the NPCC website.
---
Share on: